Is Hooga PRO1500 the best-value red light therapy body panel on the market? Let's find out!
So I've been testing this panel for a while now, and it is rather basic but there are some interesting features, including something quite remarkable that I noticed when doing my wavelength testing. I'll talk more about this later.
🔗
I aim to be affiliated with all light therapy companies as much as possible to remove any bias. If you purchase products through links in the article or using discount code ALEX, then I receive a small commission at no cost to you which funds these reviews to help you make informed decisions.
In the meantime, what do you need to know about this panel? Well, it's from a company in the USA called Hooga Health. They are well known for putting out some incredibly economical red light therapy devices.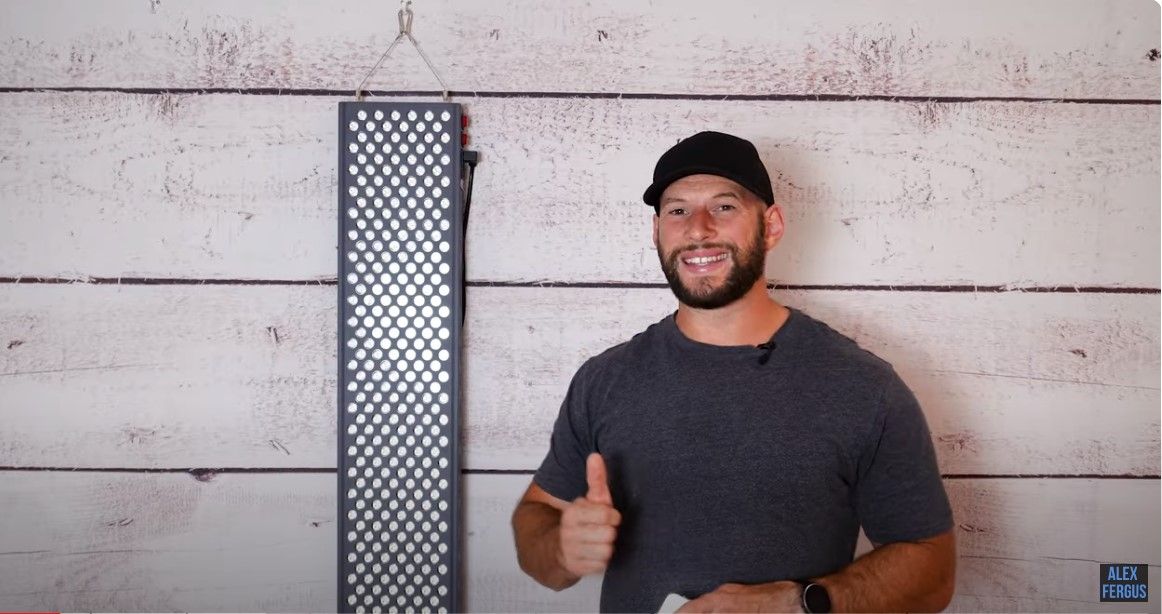 This is their 300 LED panel. They make smaller ones with as few as 60 LEDs right up to their massive wall panels with over a thousand LEDs. Hooga Health products are known for being a great bang for your buck.
Product Features
This one is from their PRO line which includes some extra features which means a higher price compared to their basic line. We'll talk more in-depth about the two different product lines at the end of this video.
With their PRO panels, you're getting dual chip LEDs which results in better power output and broader light coverage.
It also has modular support which is great if you want to get multiple panels and connect them all together.
There's no flicker in this panel. It also has a nicer design.
Size wise, it comes in at 36 inches tall 9 inches across meaning you could treat half of your back or one leg at a time.
Wavelength Testing
So it is marketed as a 660 nanometer (nm) red light device and a 850nm near infrared light. I do see that single peak in the near infrared range. Though it was a little bit closer to 860nm instead of 850nm, but there was still a good amount of light at 850nm.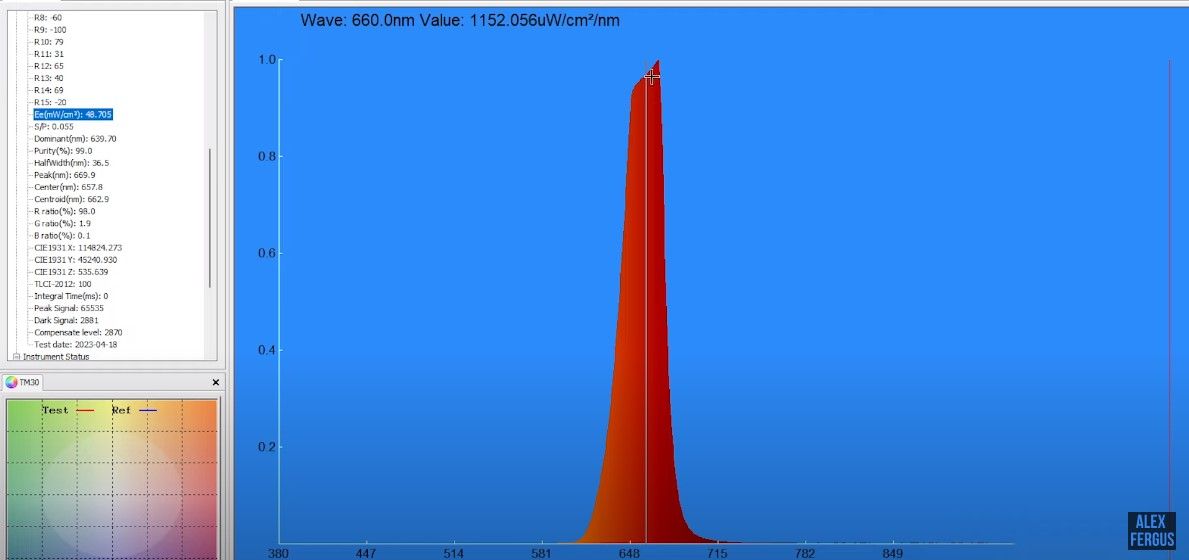 What is really interesting is with the red light data as you can see here it wasn't just a sharp single peak. Instead, we see a bit of a flat top. What's neat is that it's quite a wide range.
💡
You get a therapeutic dose of 660nm light as intended, and as an added bonus, there is a substantial amount therapeutic red light starting from 650nm and spanning all the way across to 670nm!
So what does this mean? It's going to be good at lowering inflammation, helping with wound healing, boosting collagen production, and just optimizing overall energy generation.
Power, Dosing & More
As for the power numbers, I got a peak power reading of 96mW/cm2 at six inches. This is ridiculously high. In fact, it's probably one of the highest readings I've tested. What's even better is the average power reading was close to this peak. The average I got was 86mW/cm2 .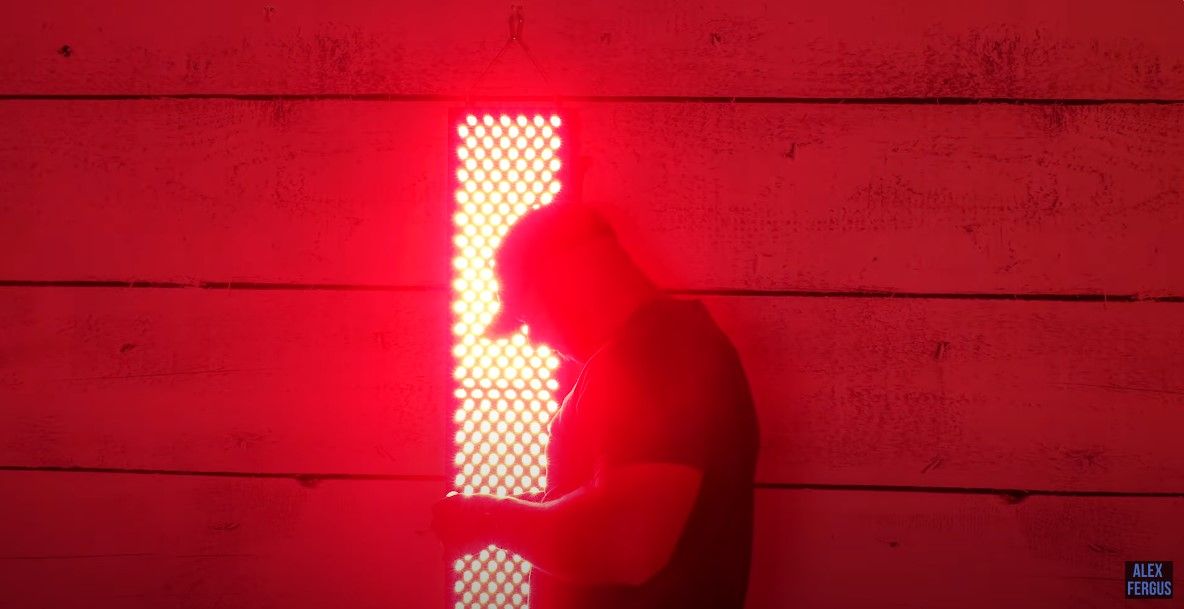 Usually, we see a big drop off between peak and average. I think the reason that these two numbers are so close is because of the dual chip LEDs. Meaning, you're getting a really nice spread of light. The total light output was 150 watts (W).
⚡
A peak power reading of 96mW/cm2 at six inches and an average of 86mW/cm2 makes this one of the most powerful panels I've ever tested which is quite amazing!
What are the key takeaways here from a dosing point of view? Well, if you're running with 50J/cm2 while using this at 6 inches (in), you'd need to do a 10 minute (min) treatment time for deeper issues.
For surface level treatments, you're only needing about a 3min per treatment time. So these are really good numbers especially if you want to use this on multiple areas across the body.
The Sound and EMF Levels
The sound reading was good at 50.5 decibels. Unfortunately, the EMF reading was not so good at 6in.
🚧
I did get a magnetic reading of 0.16 microteslas (μT) that puts it into the low orange category.
It's not a deal breaker, but if you're concerned about the EMF, you may want to look elsewhere.
Price, Value & Warranty
What about price? Well, it retails for $1199. Discount code ALEX will save you 5%. So that brings the price down to $1139.
If you're in America, you'll get free shipping. Internationally, you'll be looking at around $150 up to $200 for shipping.
💲
From a value point of view, you're paying $7.50 for one watt of red light therapy which is exceptionally good. Anything under $10 is amazing!
That actually puts it right up there with the big dogs like Mito Red and BioMAX panels. However, it's important to remember that those panels are your more premium, feature-packed panels.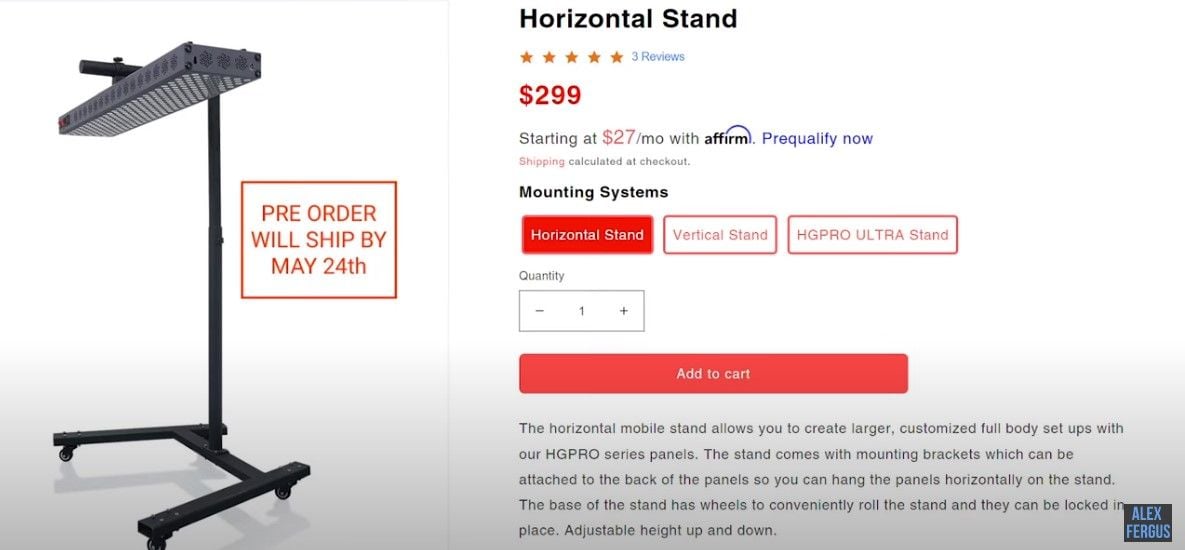 You can get a stand for this panel. It's about $299. They have a vertical stand and a horizontal stand. I should mention that the panel comes with a three year warranty and a 60-day trial period.
My Likes & Dislikes
So what do I like about this panel? Well, I think the 650nm to 670nm range that you're getting is pretty cool. I don't know if that was a deliberate design choice or if it just worked out that way, but it is beneficial.
I do like its dual chip technology, and you are getting a great coverage area of light.
I'm impressed by its power output. It does mean you can stand further away and get a good treatment dose.
The price is quite attractive. Yes, there are cheaper body panels, but it's still coming in at a highly competitive price point.
There are a few things that I don't like. There's no multi-wave technology. There's no 630nm, no 810nm, and no 830nm light. It's just your two basic 660nm and 850nm.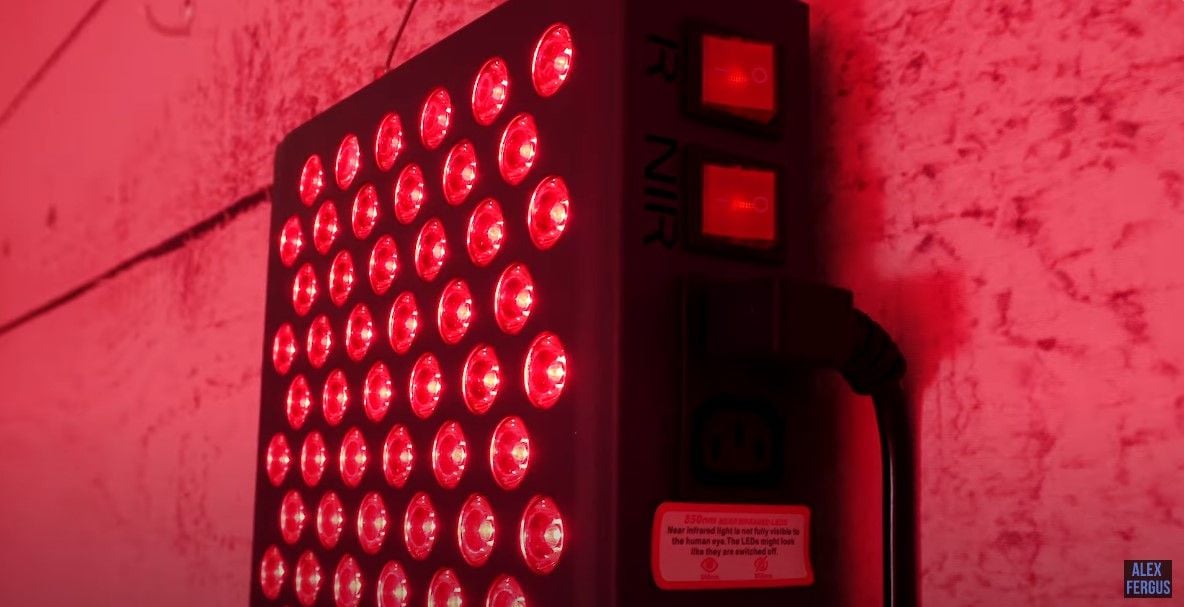 There's no control panel on here. Instead, you just get two chunky switches. It's a little bit old school, but some may like it. There's no timer on this panel. I think that's a big blow because that surely is simple and cheap to incorporate.
🛑
I think having a panel with this much power means you really need to know how long your treatment has been because it would be easy to start overdoing it and overdosing since it's putting out a ton of light!
If you end up standing closer to that panel and that 5 to 10 minutes turns into 15 to 20, then there is a risk that you're pretty much wasting your time. The built-in timer would really help you.
Another thing linked to this is the lack of a dimming function. We see this in a lot of new panels where you can drop the light down. People were initially excited by this for the ability to use it as a background ambient light.
However, now that we're seeing these extremely powerful panels, it is nice to be able to drop the intensity down so you can do longer treatments or decrease your risk of overdosing.
Finally, there was that slightly higher EMF reading. Today, we pretty much expect the panels to be putting up next to no EMF so that was a disappointment.
Should You Buy?
Overall then, should you buy this panel? Overall, it's a great value. But before hitting the checkout button, I think it is smart to shop around.
I can think of three main reasons why someone would buy this panel.
First, is someone who wants a no-frills, easy to use approach. This literally has one switch and away you go. People might like that.
Secondly, someone who's wanting good power across the entire panel with no hot spots is going to like the Hooga PRO1500.
Thirdly, those on a budget are often attracted to the Hooga Health products.
Again, make sure you do some research and shop around. Speaking of shopping around, let's compare this to two other panels.
🤩
The MitoPRO 1500 has four different wavelengths: 630nm, 660nm, 830nm, and 850nm light, and it is an even more affordable panel after using discount code ALEX which brings it down to only $1092.
Now there are a lot of benefits in these other wavelengths, so that is quite a big draw card. It is a little bit less powered than the Hooga PRO1500, but you're getting a much nicer control panel with that important built-in timer.
Hooga's PRO1500 Compared With Their Basic HG1500
Alternatively, Hooga makes a highly affordable HG1500 panel. Their non-PRO, basic edition should be considered if you are on a serious budget. You do lose a couple of features going with that product line.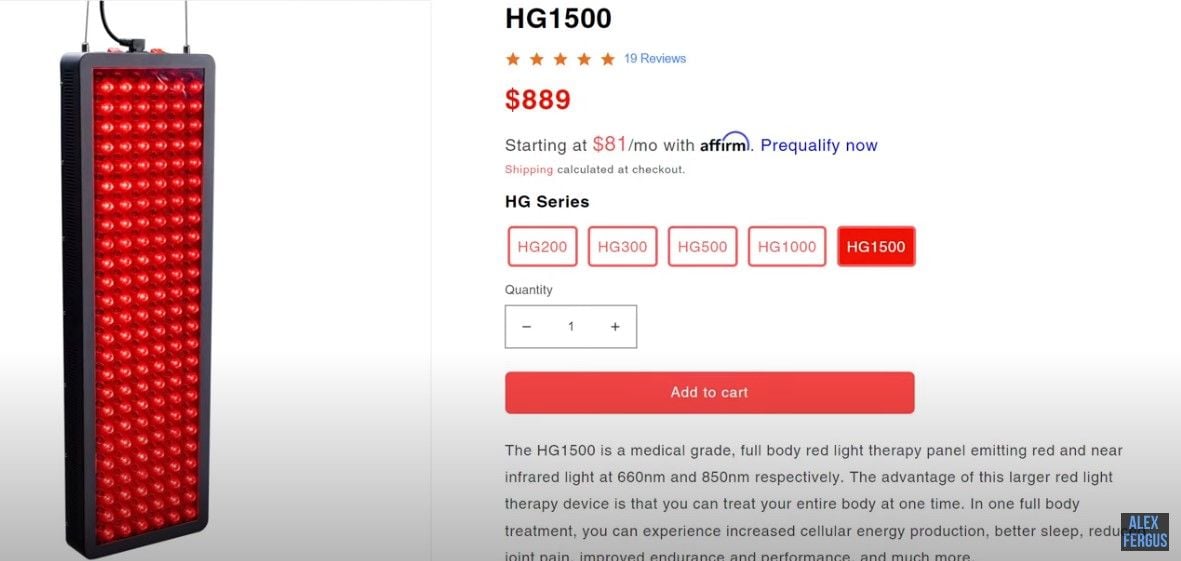 It's not dual chip like the PRO. It doesn't have modular support. There is some flicker in the basic panel which isn't ideal.
💲
After using discount code ALEX you can get the basic Hooga HG1500 for $850 which is an incredible value!
Now, be sure to check out this article to learn more about the differences between the Hooga PRO line and their basic line.
It takes me a ton of time to do these product reviews. I do a lot of research, and it also costs me a lot of money. So please let me know what topics you like most because that shows to me that I should keep doing this because people find it useful, and I really do appreciate it.
🙂
Don't be a stranger. Share your experiences and questions with
our group
on Facebook.
Leave any questions or comments below. I'll see you in the next article.
This Article's Products With Benefits:
Extra! Extra! Read All About It!
✅ Light Therapy 101 & Buyer's Guide
✅ Hooga vs Hooga Pro: Is Premium REALLY Better?
✅ 36 Powerful Red Light Therapy Benefits
✅ 810 Nanometer Wavelength Health Effects Cheat Sheet


🔥
Check out this epic new
Shopping Tool
that has been years in the making! You can filter products by price, number of LEDs, total power, irradiance, height, width, warranty, company, the company's location, warehouse, class, year released, pulsing, flicker, modular support, ultra low EMF, built in timer, multi-chip LEDs, stands included, specific wavelengths, shipping, value, noise level, and more!
Be In The Know With These YouTube Videos
✅ Hooga Vs Joovv: BATTLE For Which Is Better!
✅ Red Light Titans Duel: BioMax 900 vs MitoPRO 1500!
✅ The 5 BEST Red Light Therapy Devices - Reviewed!
✅ MitoPRO 1500 Vs Infraredi Flex Max 2022: Which Is Best?
✅ Mito Red MitoPRO 1500 Review: Exceptional Value, But...