Welcome to this review article covering two panels that have only been on the market for a few months now. We're going to look at power, price, warranty, ease of use, the control panel, remotes, and everything else.
💡
The team at PlatinumLED is well known for their high-powered innovative products including their tabletop panel the BioMAX 300.
💡
The Mito Red team's panel the MitoADAPT MIN also has some neat features that put them slightly ahead in some categories.
Time to go toe to toe on all the metrics. They each have their advantages. I know these panels well, so I can say with confidence that both of these panels will give you great red light therapy benefits!
I also made a YouTube video comparison review: Which is Better? MitoADAPT MIN Vs BioMAX 300 for you as well.
I am an affiliate partner with many light therapy companies. (Click the light grey "V" symbol to the right for details.)
I aim to be affiliated with all of the companies as much as possible to remove any bias. If you purchase products through links in the article or by using discount code ALEX, then I will receive a small commission at no cost to you which funds these reviews to help you make informed decisions.
Basic Features Comparison
First up, let's look at size. As you can see the BioMAX 300 is a 58.3% larger panel. This also means the BioMAX is heavier. If you're using these as tabletop or wall hanging panels, that's probably not going to bother you too much.
💡
The MitoADAPT MIN is 12 inches tall and 9 inches across which is 108 square inches (in2) / 697 cm².
💡
The BioMAX 300 is 19 inches tall and 9 inches across which is 171 in2 / 1103 cm² in all.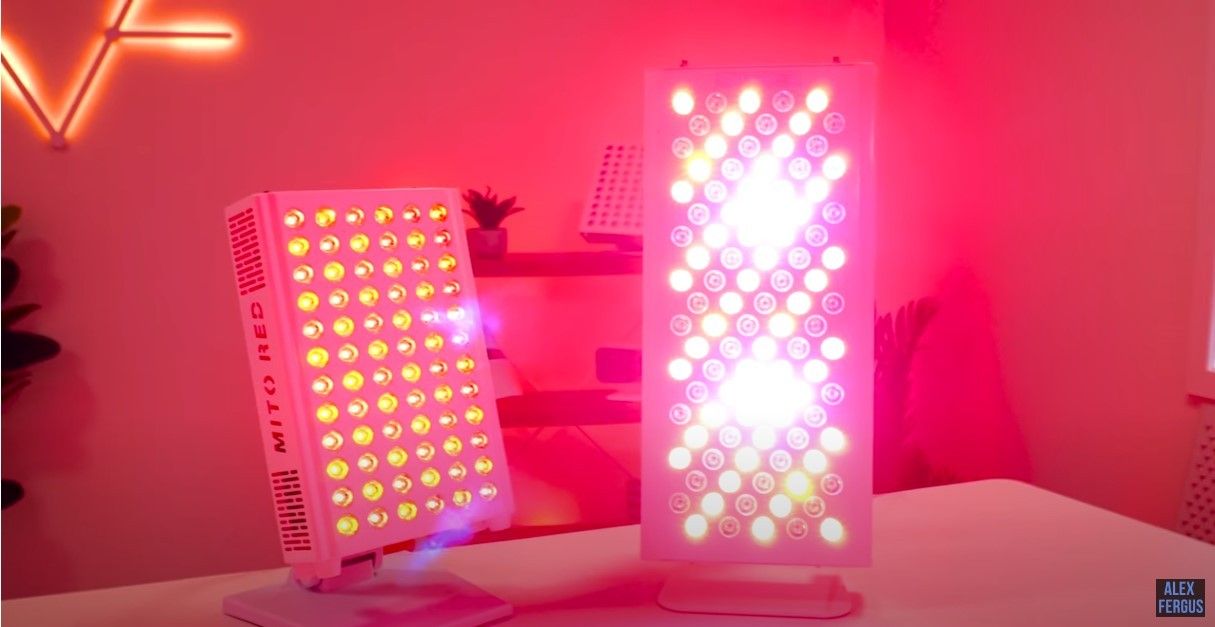 If you're looking at these panels purely from a spot treatment point of view, the smaller MitoADAPT MIN panel is going to be perfectly fine. However, if you plan to use these panels for your back or other larger areas of the body, then the larger BioMAX 300 panel is going to be more suitable.
When it comes to LED count, MitoADAPT MIN has 72 LEDs and BioMAX 300 has 100 LEDs which is 38.9% more. Interestingly, MitoADAPT MIN uses dual-chip LEDs. That means for each lens you see here, there's actually two diodes in there emitting light which gives that panel has 44% more diodes. This is a great feature because you're going to get more evenly dispersed light this way.
Wavelengths Comparison
BioMAX 300 actually uses six different wavelengths: 630 nanometer (nm), 630nm, and 660nm red light plus 810nm, 830nm, and 850nm near infrared light.
💡
With the BioMAX 300, 80% of the light is going to the 660nm and 850nm. The remaining 20% is split between the other four wavelengths.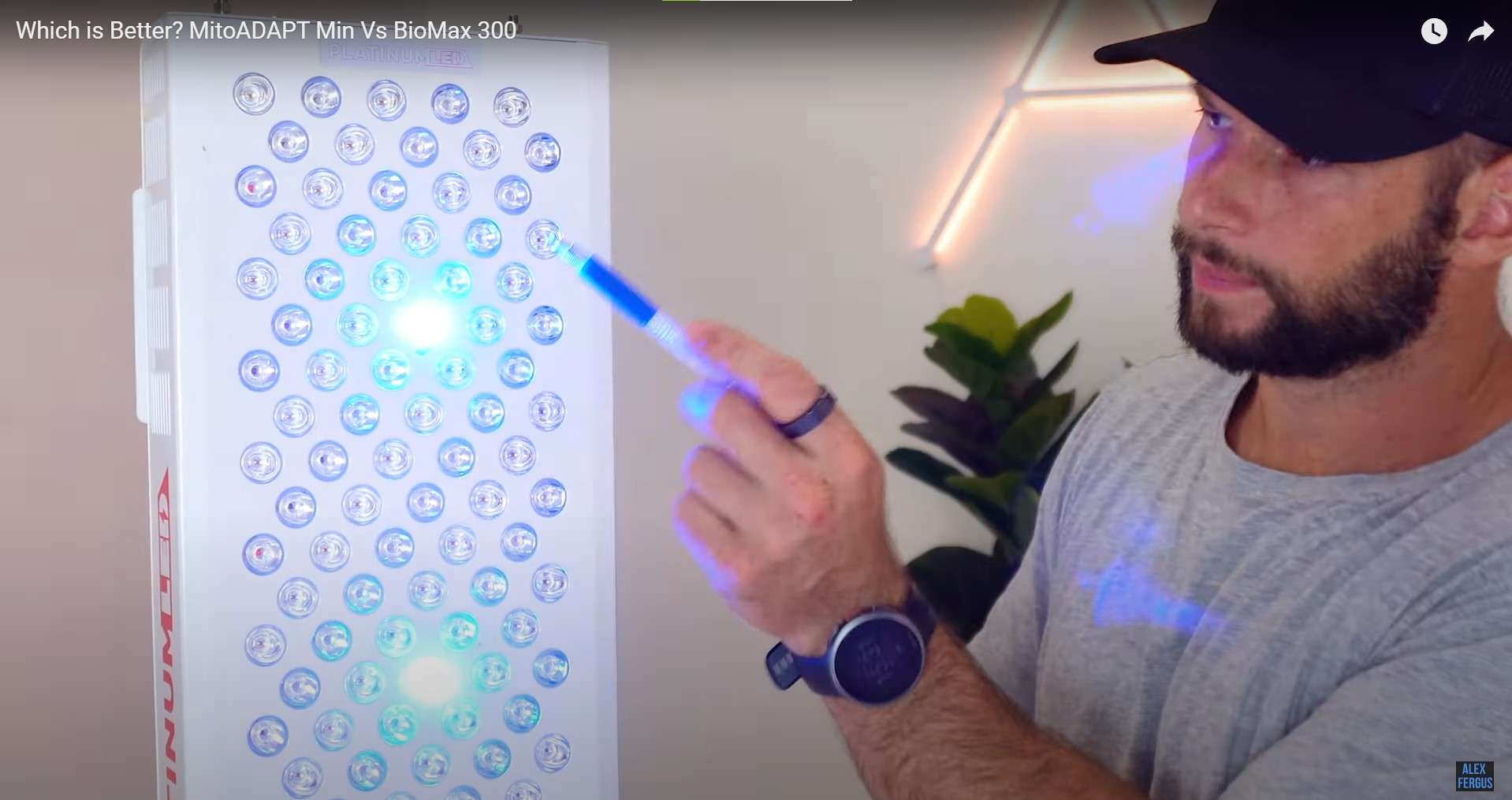 Then you also have blue light. As you can see, there's only two LEDs with that blue light which is going to be beneficial for skin health, especially acne. It is a nice addition to the panel. It may have been better if the blue LEDs were a little bit closer together instead of spread out. There is also a switch in this panel, so you can disable the blue lights if you don't want them. You can see the breakdown of its wavelengths below.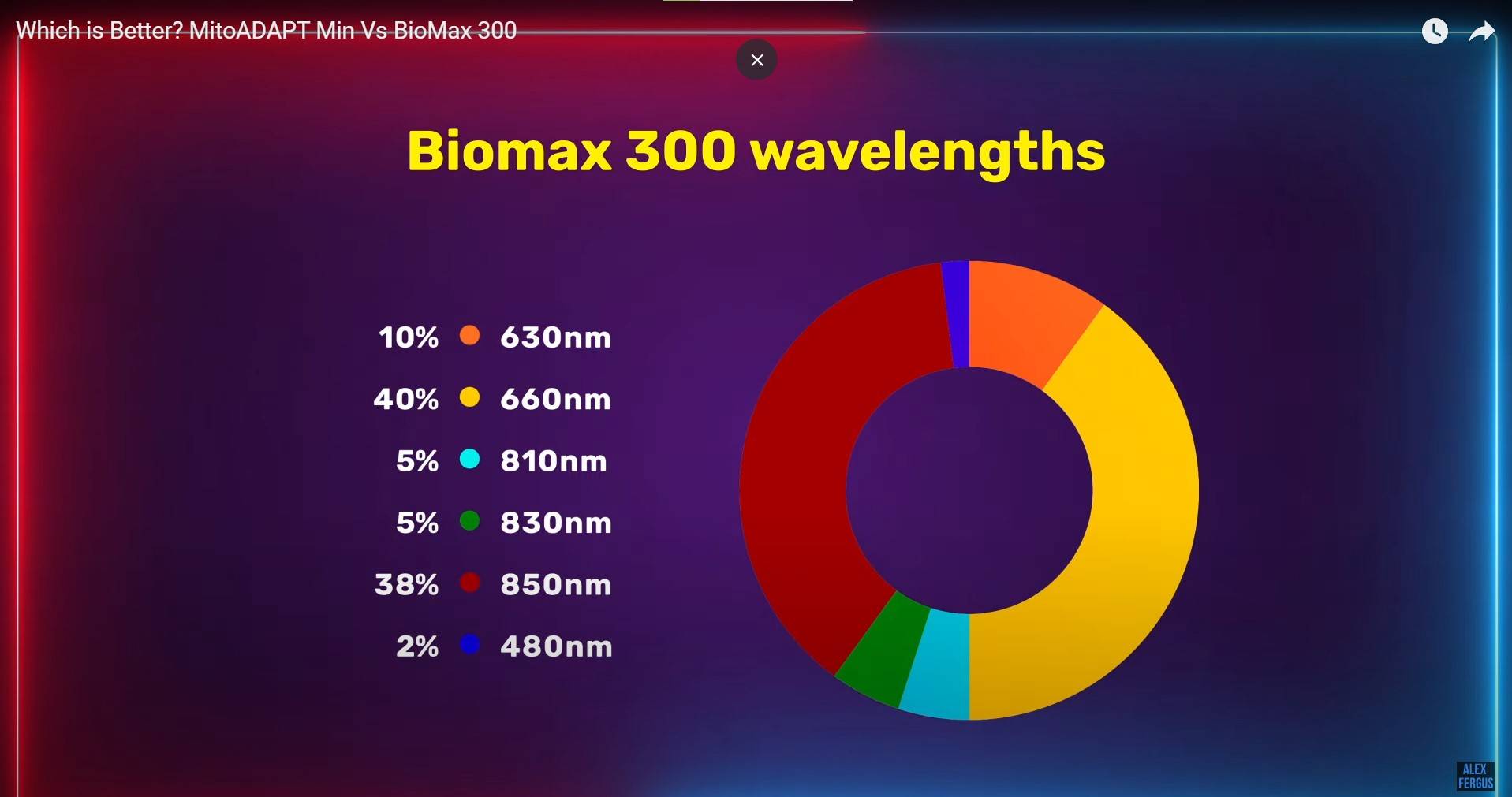 If you exclusively want 810nm light for brain health or because it goes deeper into the body, you can turn off the others. On the other hand, if you just want a nice blend of red light for skin health, the MitoADAPT MIN panel is going to be better for your purposes because you could opt for only the 630nm and 660nm wavelengths.
💡
The MitoADAPT MIN has an even split of 25% of its energy going to each of the four wavelengths: 630nm and 660nm red light as well as 810nm and 850nm near infrared light. However, there is no 830nm light or blue light.
Power Output
It's important to note that any panel on the market today puts out plenty of power so both will be up to the job. Let's look at the power figures. (All figures in this article have all been rounded to the nearest decimal.)
💡
The MitoADAPT MIN puts out 42 milliwatts over one centimeter squared (mW/cm²) at the same distance with 21 watts (W) of therapeutic red light.
💡
When we look at the total wattage output, the BioMAX 300 was putting out 47W of therapeutic red light and has a power output averaging 70 mW/cm² which gives you 124% more therapeutic light.
They're both going to work well. With the BioMAX 300 panel, you can stand further away to get the same dose or maybe do shorter treatment times. If you manage your time closely, or you're looking for a panel to not only target the face but also larger areas of the body, those additional watts plus the larger size panel will be a lot more beneficial.
Ease Of Use
When it comes to ease of use and controls, this space has changed a lot over the years. It used to just be a big switch on the top. Next to hit the market was maybe an LCD screen with a few buttons. Now, we have remotes, touchscreen control panels, and even apps. I'll run through what you get with each of these panels.
💡
BioMAX 300 has a really nice, sleek touchscreen control panel that was first introduced in their second generation panel, and this is their third generation we are looking at below. It works really well because it's very responsive.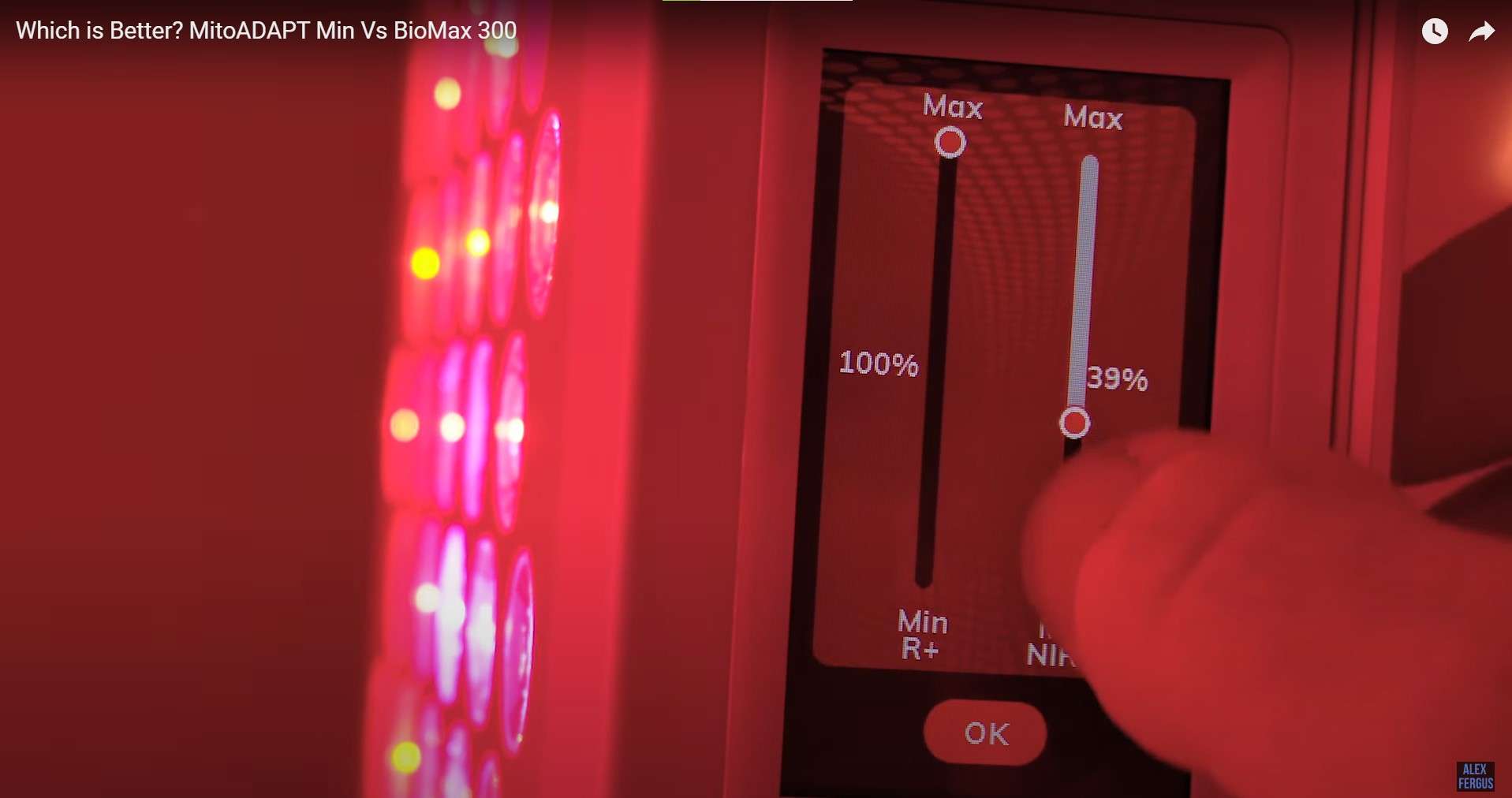 The PlatinumLED BioMAX 300 has a high-tech touchscreen control panel.
The screen is big enough to easily use. You can lower the power intensities between the wavelengths. You can lower either the red or the near infrared wavelengths or both. You can drop the power back if you just want some background ambient light. It's easy to connect multiple panels together. Plus, you can see the timer easily on the side of the screen.
💡
The MitoADAPT MIN panel has four buttons to change various settings in this panel. You can change the timer and also adjust the power intensity from 1% through to 100%.
It's not quite as nice. It isn't a touch screen. The resolution isn't as sharp, and the screen is not as big either.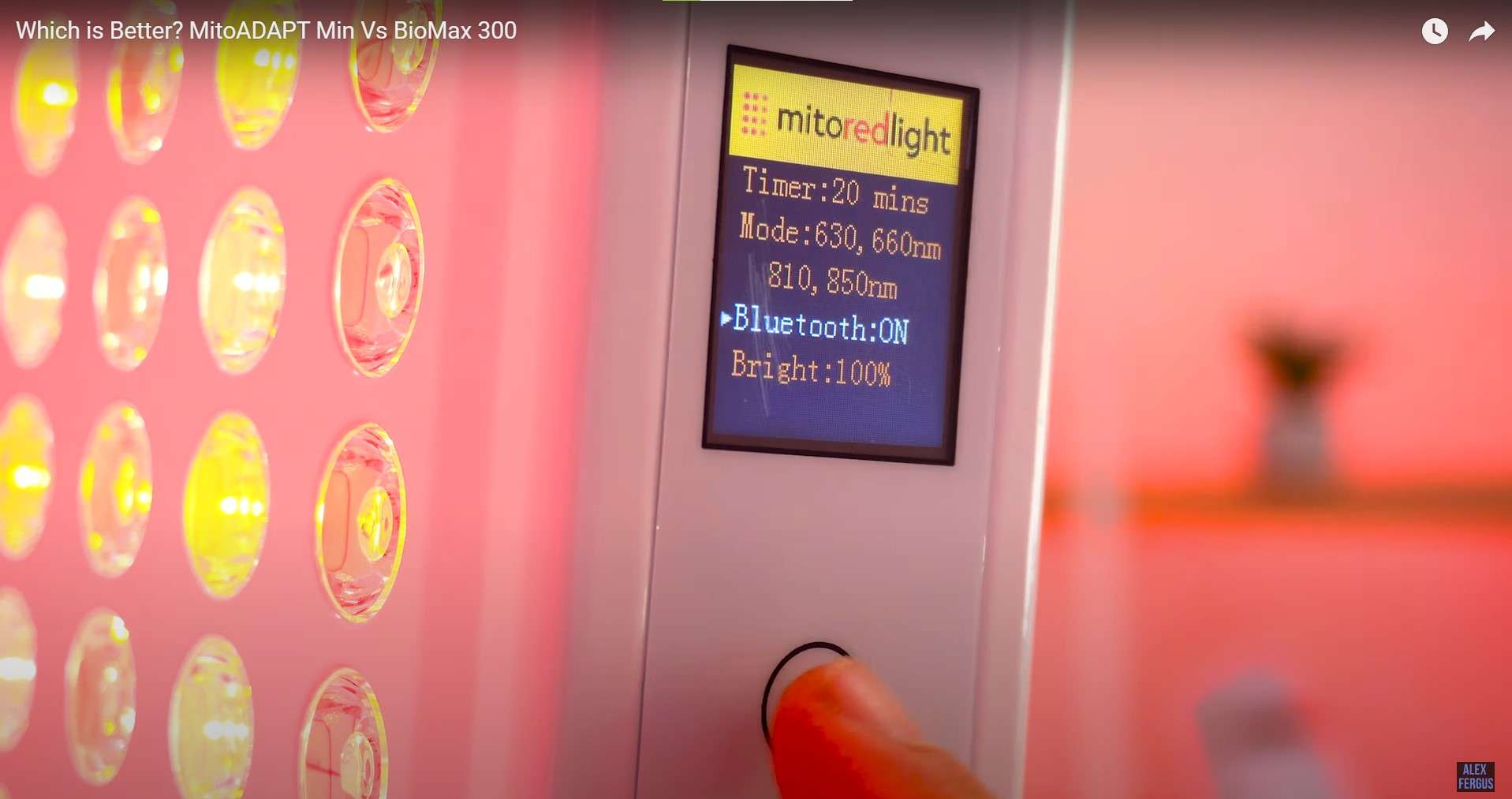 The Mito Red MitoADAPT MIN panel has four buttons on the control panel.
💡
The BioMAX 300 also includes a free rechargeable remote.
It is handy, but the functionality is quite limited. It simply has an on and off button which defaults to 20 minutes on at full power with all wavelengths running or turning it off.
💡
The MitoADAPT MIN doesn't have a remote.
Apps For Both Panels
Both of these panels also include an app. The apps enable you to control the panels from your phone wherever you are in the room.
💡
The PlatinumLED app for their BioMAX 300 replicates what you see on the control panel.
There's nothing extra. It just does exactly the same thing as you can see in the image below.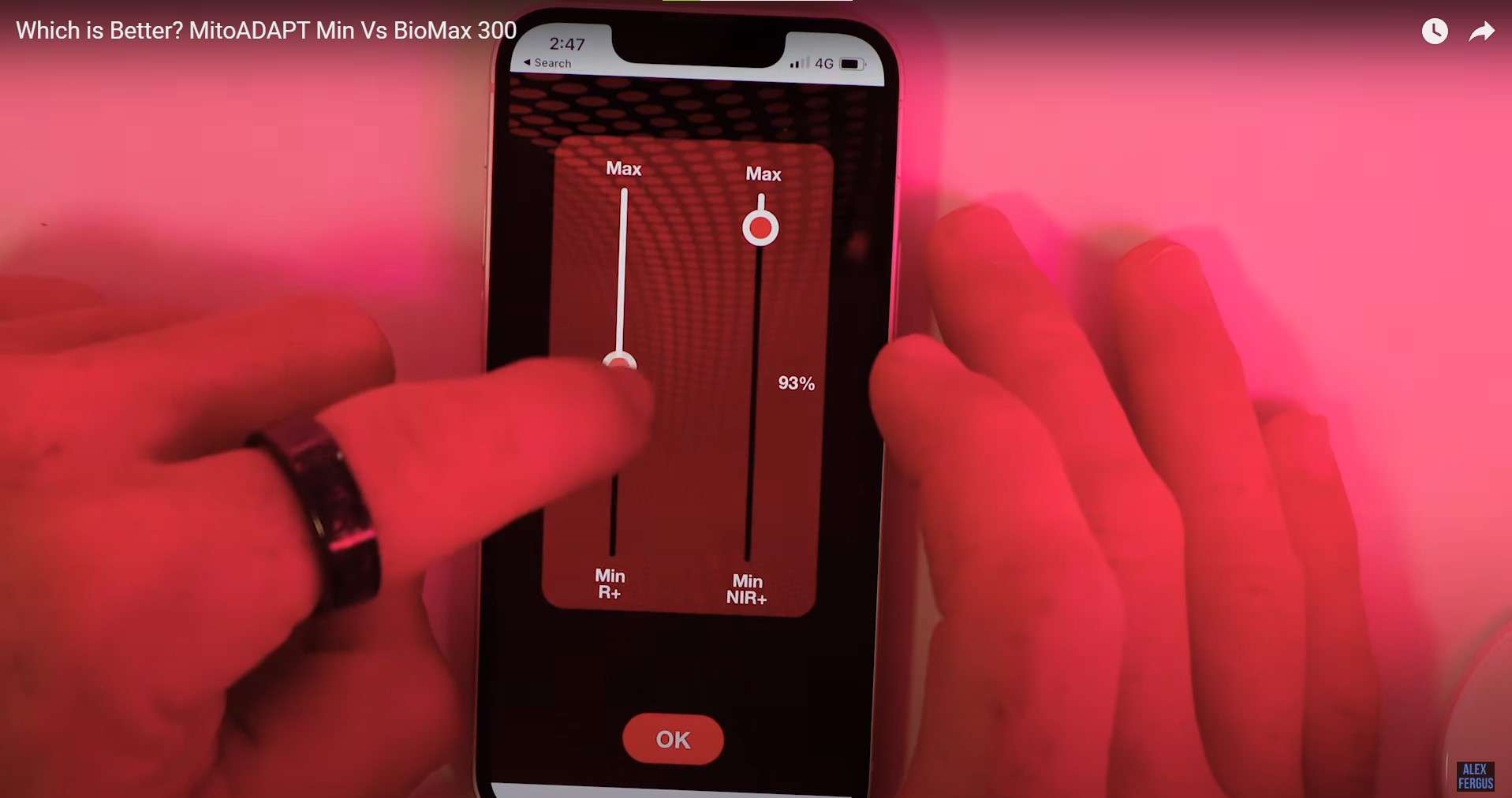 In contrast image below is of the Mito Red app for their MitoADAPT MIN which is quite interesting. To start with, you need to create an account when you set up the app. You then answer a few questions about things such as your skin tone and what you're hoping to achieve from this panel.
In the Mito Red app, you'll see there are 11 different modes. These are built into the panel itself. You can also access them through the control panel on the side. You don't necessarily need the app, but the idea behind this app is that it will track your usage and what mode you use.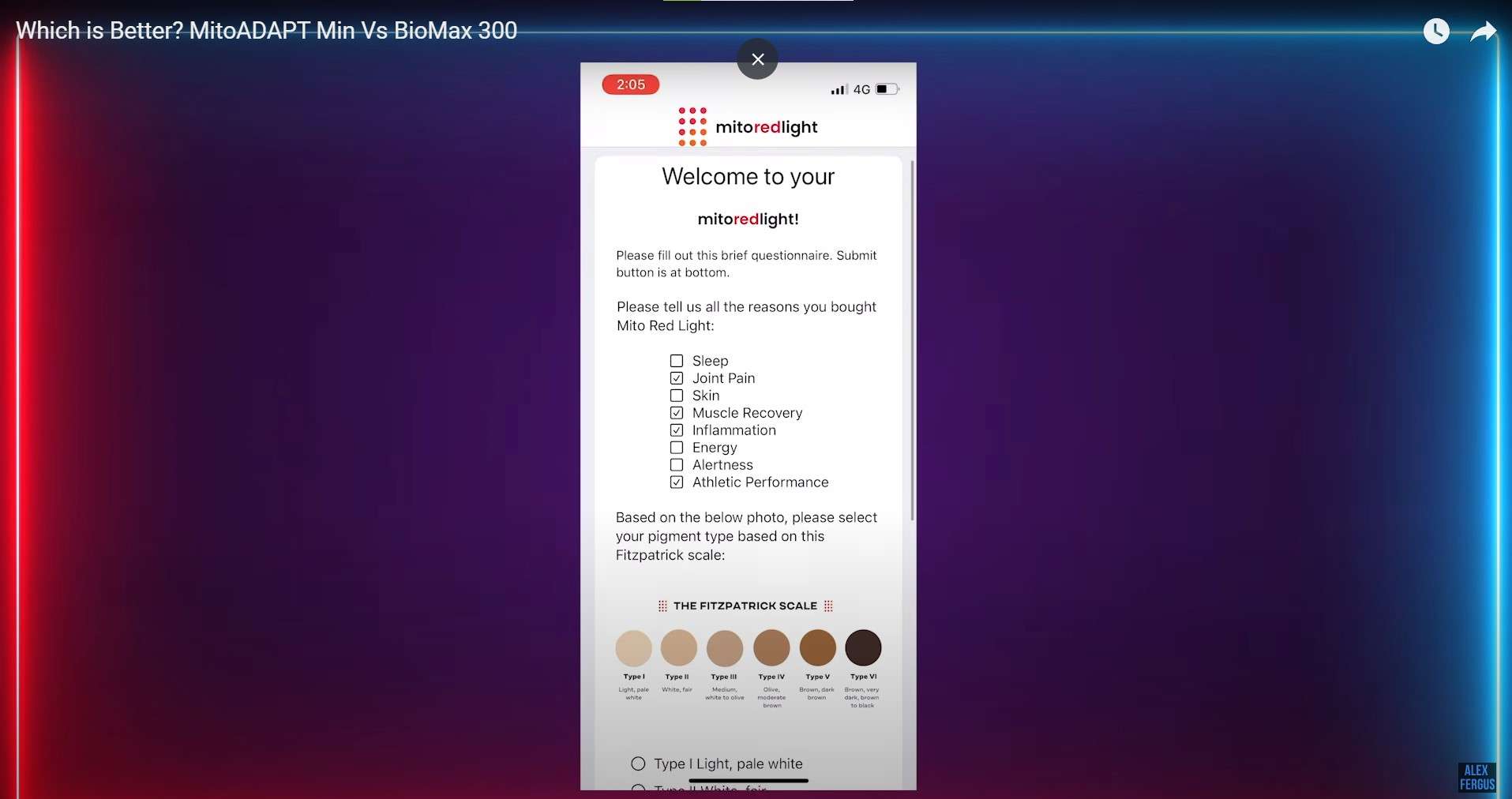 Over time, the app will ask you how you're progressing in certain areas of health and wellness.
💡
Eventually, the Mito Red app will be able make customized recommendations. Perhaps it will advise something such as: Mode 3 is really beneficial for joint health or whatever.
I foresee some potential issues with this which I've covered that in detail in my MitoADAPT dedicated review. You can check that out to explore this further. The team at Mito Red are hoping it's going to be an absolute game changer for the industry.
What do each of those modes mean? Well each one changes what wavelengths are running and at what intensity. For instance, you can just have red light running. Or you may want to have 630nm and near infrared both running. Or you may want 850nm and both red light wavelengths, but no 810nm.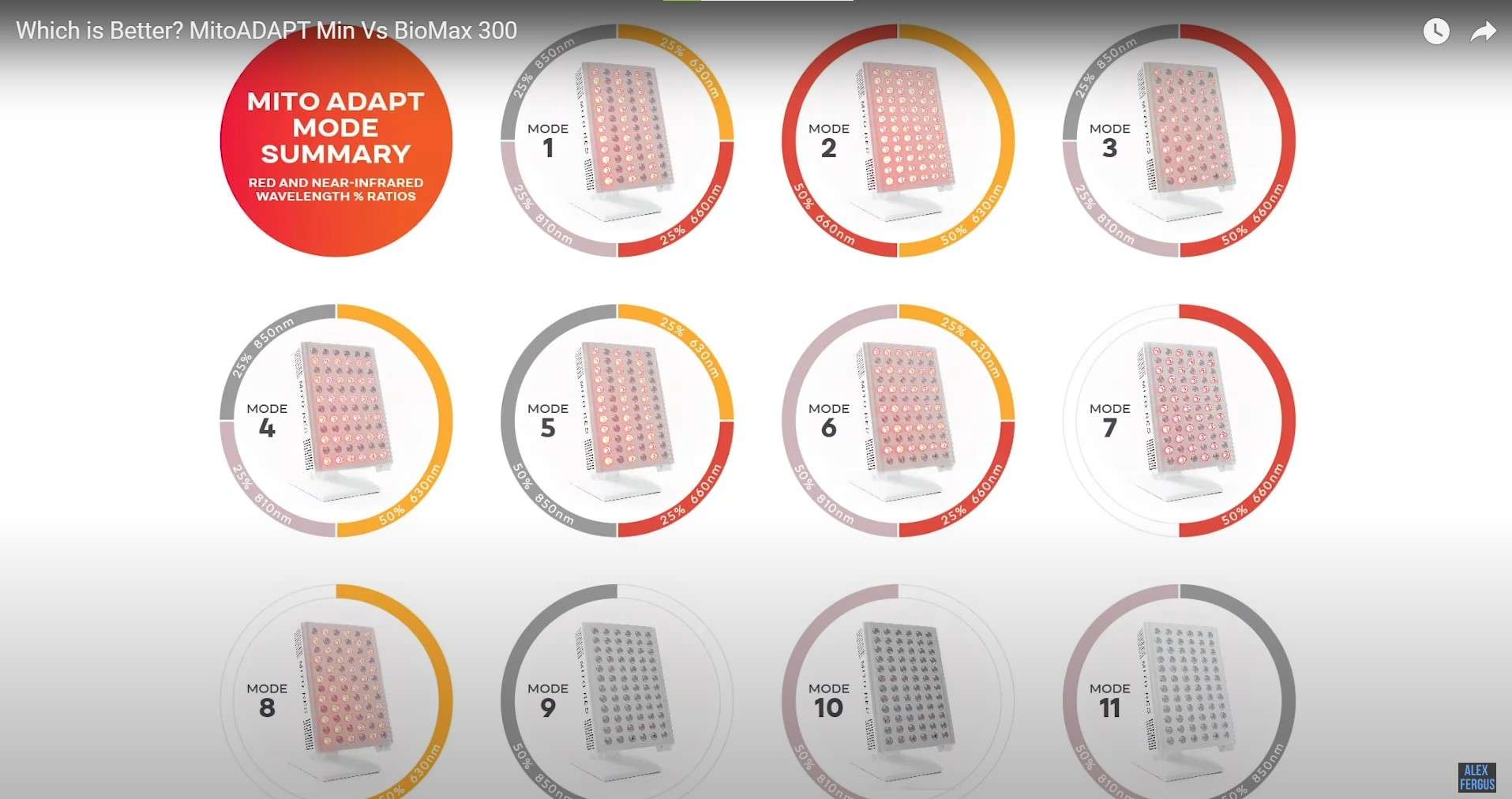 With the PlatinumLED app, you don't have that full control. When I use a red light therapy device, 95% of the time I'm using both red light and infrared light. So I can get by without the mode functionalities in this panel.
Some people will like it if they want to quickly toggle between settings such as cranking up the red light for one part of the body followed by dialing in the infrared for a different objective when targeting some other part of their body.
Even though it is a newer release app, the Mito Red app is a little bit outdated compared to the PlatinumLED app.
Price & Shipping
There are some big differences between these panels when it comes to price and shipping. Fortunately, my discount codes will work on both of these panels to save you 5% on either the PlatinumLED panel or the Mito Red panel.
💡
The MitoADAPT MIN costs less with a discounted price of $521. It also has free USA shipping.
💡
Using using my link
here
will generate a discount code for the BioMAX 300 which brings it down to
$597
US dollars. Shipping is around $30.
So that means the BioMAX 300 is about $70 more expensive. However, you're getting more power and more LEDs and a few more wavelengths as well.
Light Therapy Tabletop Panel Stands
The overall price of $597 doesn't include the BioMAX 300 stand. The basic panel without a stand does come with standard hooks to hang from a door and a wall hanging bracket as well, so you've still got options.
💡
With the MitoADAPT MIN, the $521 includes the tabletop stand.
💡
If you want the stand with the BioMAX 300 panel, expect to pay either $109 or $149 extra for one of their two stands. (You can bring it down to
$104 or $142
with discount code through my link
here
).
PlatinumLED has two options for stands for BioMAX 300. I like it that the metal tabletop stand is the exact same color as the the metal panel. It works really well and looks good. The second option is an articulating desktop arm which is handy especially if you want to target various hard-to-reach areas.
BioMAX 300 is $701 with the tabletop stand or $739 with the articulating arm stand.
The MitoADAPT MIN panel and its stand costs 13% less or $70 less compared to the BioMAX 300 without a stand and with complimentary door hooks and a wall-hanging bracket.
The MitoADAPT MIN with its tabletop stand costs 26% less which saves you $180 compared to BioMAX 300 with the tabletop stand for the best apples-to-apples comparison.
The MitoADAPT MIN costs 29% less saving you $218 compared to the BioMAX 300 with the PlatinumLED articulating arm stand for the most flexible positioning.
With MitoADAPT MIN, the stand shown above is included. It is a metal and plastic stand. What annoys me is that the color is not an exact match. The stand is pure ice white, but the panel is more of an off-white. The best thing about this stand is that it has two pivot points, so you can move the height and the angle which is helpful.
The Winner?
I'll let you decide for yourself how you want to weigh each of these facts. Here are the top 9 advantages of BioMAX 300 followed by a list of the top 9 advantages of MitoADAPT MIN.
BioMAX 300 is 58% larger.
It has 39% more LEDs.
It has 6 wavelengths including 2 additional wavelengths: 830nm infrared and blue light in the upper 400s nanometer range. Plus there is 60% more 660nm light and 52% more 850nm light.
It is quite attractive for acne prevention and support with its blue light therapy LEDs as it is the only top-competitor brand to include it in their panels at this time.
You get a nice touchscreen control panel.
Plus it comes with a complimentary basic remote shown below.
It generates 124% more therapeutic light.
It has and 67% more power.
It is hard to beat the cost-per-watt of BioMAX which is $13 per watt without the stand, or $15 per watt with the tabletop stand, or $16 per watt with the articulating arm stand.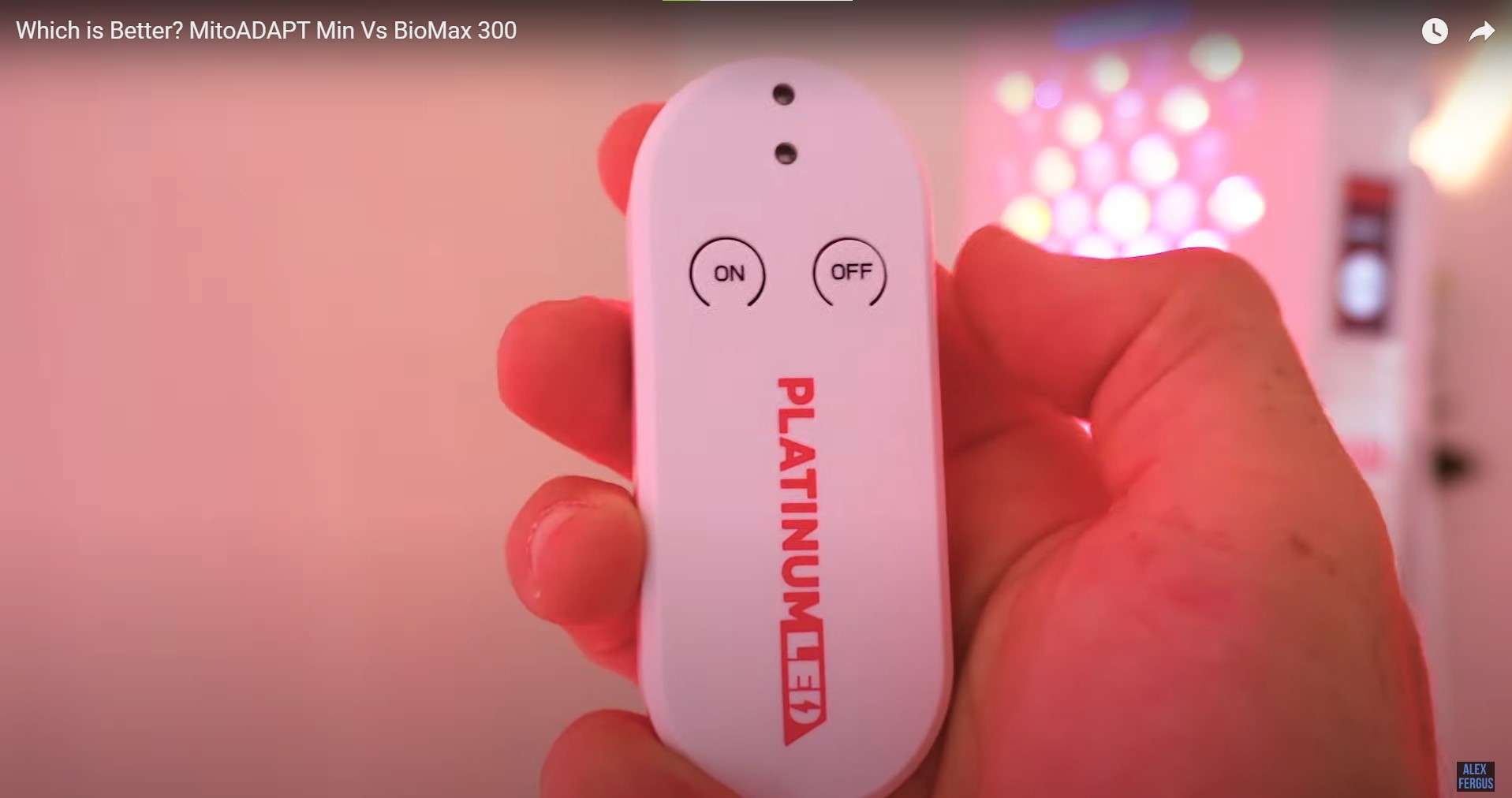 MitoADAPT costs 26% less which saves you $180 compared to BioMAX 300 with the PlatinumLED tabletop stand for the best apples-to-apples comparison.
It still has plenty of power costing $25 per watt.
Its has four wavelengths for a balanced variety: 630nm, 660nm, 810nm, and 850nm.
Having 25% of the LEDs allocated to each results in 150% more power going to the 630nm, and there is 400% more directed to the 810nm wavelengths.
Additionally, with the dual-chip technology, you get more evenly dispersed light with 44% more diodes.
Plus, you may find the mode functions convenient.
The usage tracking within the app may be useful to you.
It comes with a complimentary stand included with the panel.
Its tabletop stand has two pivot points which is helpful.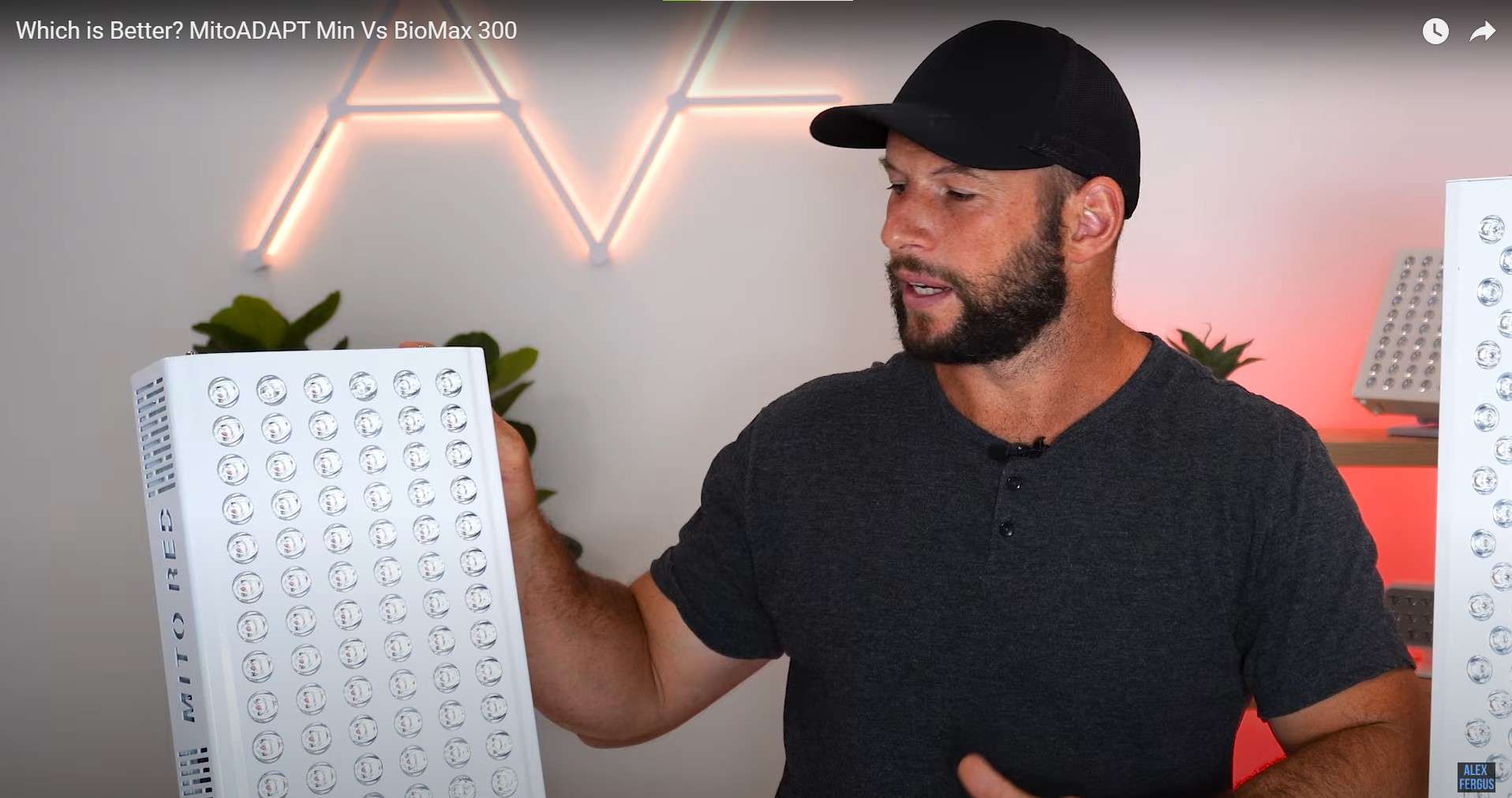 If you're still undecided as to which one you should go for, I highly recommend you check out this article where I compare the BioMAX 300 with 8 other tabletop panels including a classic Mito Red panel the MitoPRO 300 to help you make a more informed decision.
Please leave any questions or comments below because I am always interested in hearing your thoughts, thanks.
Items Mentioned In This Review:
If You Found This Interesting, You May Also Like:
✅ Chat with other Light Therapy Insiders in our Facebook group
✅ Article on red light therapy for sports performance
✅ My red light therapy testing methodology for reviews
✅ Red light therapy (and LLLT) scientific studies datasheet

🔥
Check out this epic new
Shopping Tool
that has been years in the making! You can filter products by price, number of LEDs, total power, irradiance, height, width, warranty, company, the company's location, warehouse, class, year released, pulsing, flicker, modular support, ultra low EMF, built in timer, multi-chip LEDs, stands included, specific wavelengths, shipping, value, noise level, and more!