I just came back from the Biohacker Summit 2023 - and I'm already looking forward to my Biohacker Summit 2024 soon! What I noticed above all else is that red light therapy has become really popular.
Like really, really popular!
Alex Fergus shared his opinion about this topic during our visit. Check his talk in this blog to see where he is going.
But here's the background:
When we went to this Biohackers Sumnmit conference a few years ago, there might have been one or two red light therapy companies at the maximum. But this time, there were at least seven. I'll cover their products in this blog post and will give you my outlook on the future.
(Find the most revolutionary product towards the end!)
1. Neuronic (Soon To Be) Upgraded Helmet & A New Belt
You may know Alex's Neuronic Neuradiant 1070 review:
And if you want to go even more in-depth, consider Alex's interview with one of the founders, Dr Martin Berman here:
Neuronic has gotten some amazing effects with their red light therapy device so far. And, they're currently upgrading their helmet by adding more LEDs to their helmet. So you'll be getting an updated project!
There's tons of recent science on the wavelengths used by Neuronic, officially 1,070 but probably lower, such as:
Also, the company has come out with a product that's great for spot treatment across the body. Stay tuned for that!
2. Beauty Red Light Is Flouted But We Reconsider The Pricing
So here's the deal: there are beauty red light therapy products popping up everywhere.
Everywhere...
Some products are great, and about some, we have a strong suspicion they are horribly overpriced. Here's an example: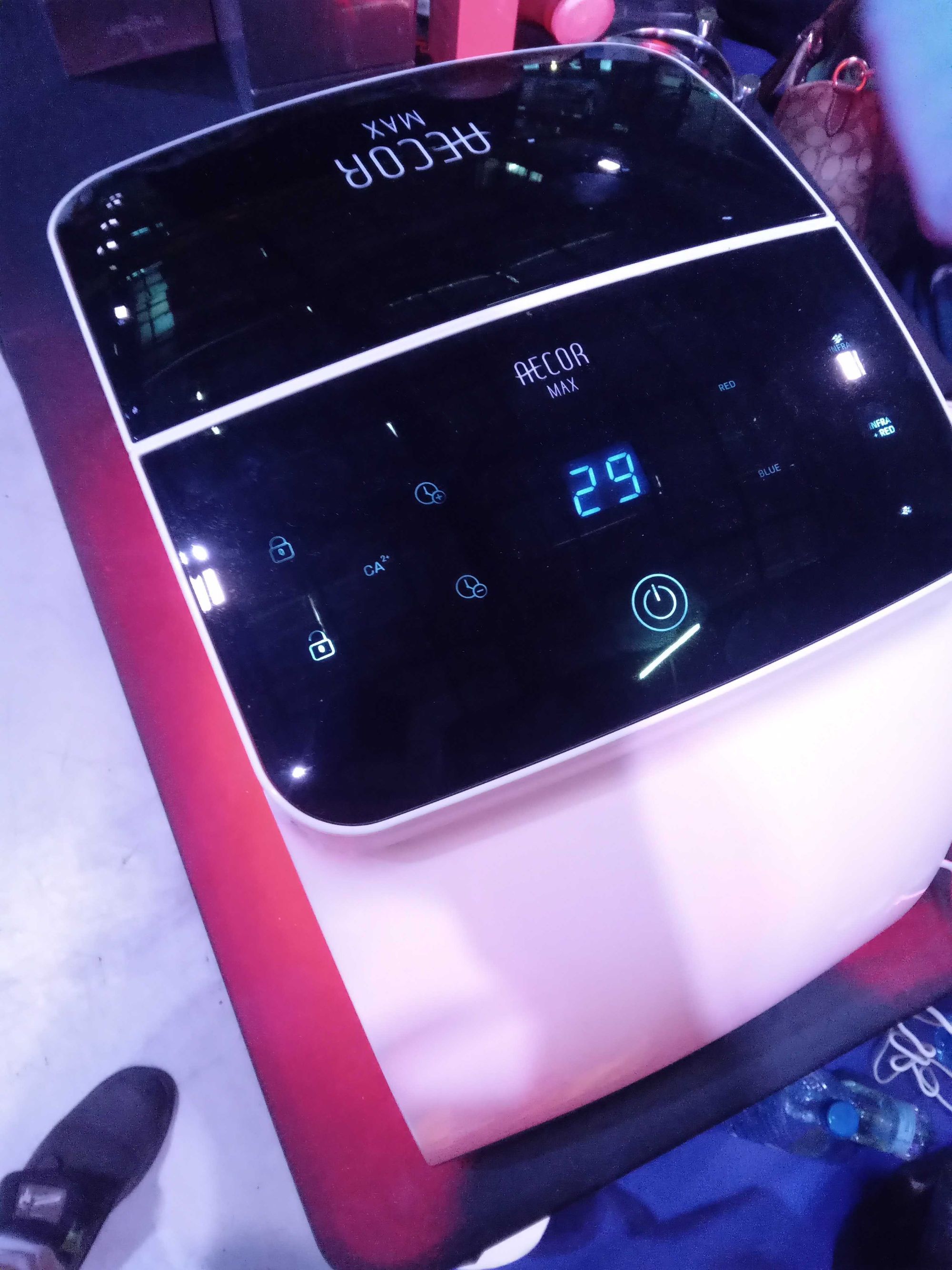 This product is like the Dermalux Flex that already costs $4K or so but this unit is 5X the price.
It's a suspicion. If you sell this product and you think we are completely wrong, send us an email by filling out the contact form.
You can check Alex's Dermalux Flex MD review - that's very similar and priced a lot lower - here:
So, you're paying $20K for a similar device that does have some special features such as a few ultraviolet-B LEDs.
But, overall, I personally don't think this product is worth it. I very strongly believe this product is not worth it, but I still want to mention it in his blog post.
I'm very much willing to receive an e-mail from the company producing this product saying my conclusion is wrong, and the reasons for it. I'm always open-minded!
This company is called "Zero Gravity". I'd love to interview them about their prices. But, given my experience, I don't recommend buying.
Next up:
3. Clearlight In-Sauna Red Light Therapy Device
I had a bit of a discussion with people about whether red light therapy will work if you're sweaty. My opinion is that it will work, because 1 millimeter of light will influence light dynamics very little from a physics standpoint.
(Blue light can travel 200m deep into the ocean. Red light can travel more than 10 meters. 1mm will be fine!)
And, Alex has interviewed Johannes Kettelhodt - the CEO of Clearlight Saunas International - about his viewpoint on red light therapy and saunas that will be published soon.
Here's Alex and Johannes in the interview, with the special Red Light Therapy Tower that's specifically made to be used inside the company's saunas: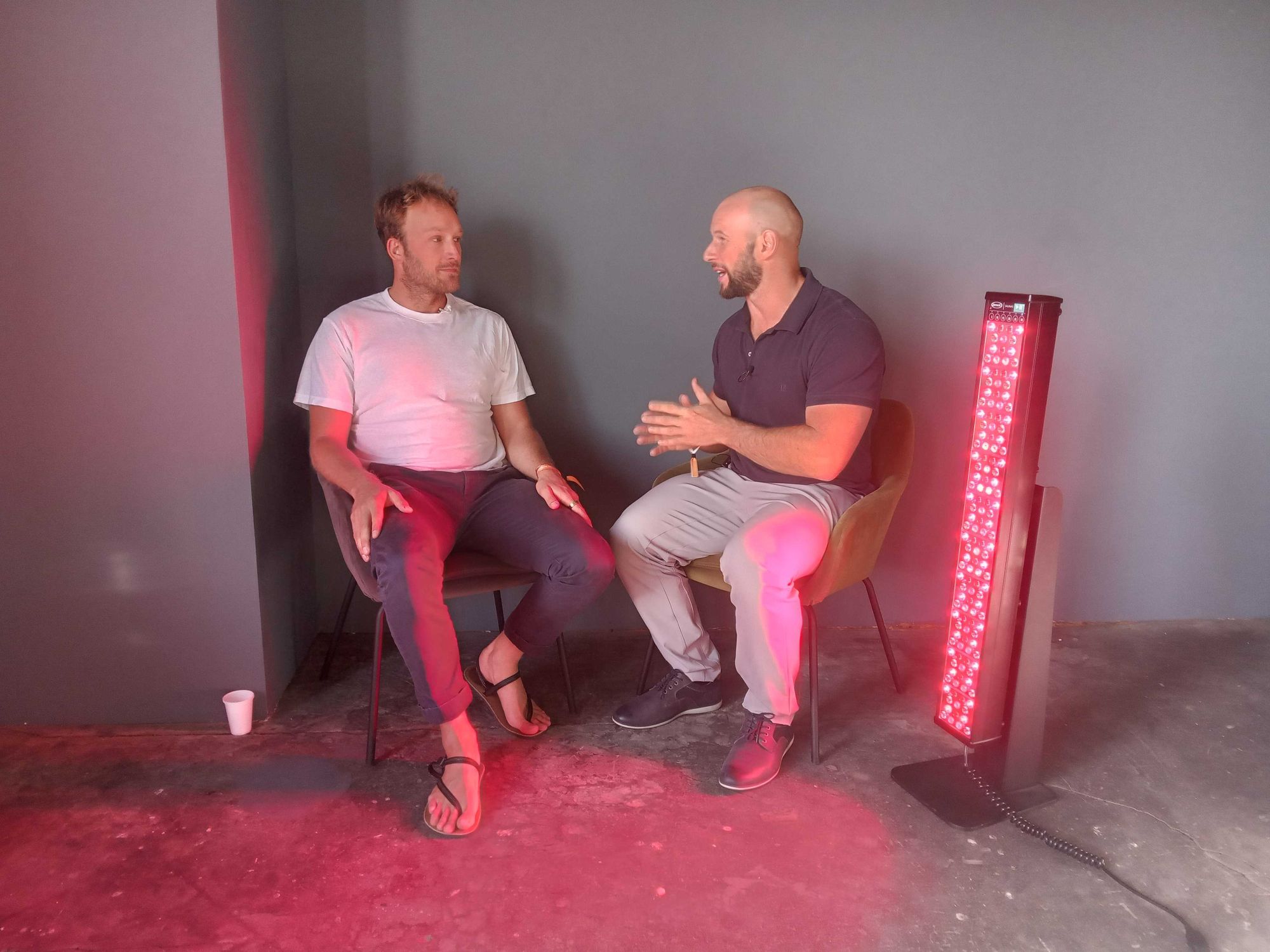 That Clearlight® Light Therapy Tower can be specifically used inside one of their saunas. So you can combine the two therapies at the same time. If you wish to learn more about Alex's viewpoint on this topic, I recommend watching this video though:
Again, I personally think the approach works and I don't believe sweat nor heat impedes the effects of red light therapy. But if you disagree, I recommend planning your red light therapy before or after sauna.
Alex disagrees with my conclusion so far, however, if I'm honest. I think red light therapy and saunas can be combined but Alex doesn't.
You make up your own mind. You don't have to agree with me!
But, moving on:
4. Cera Thrive Brain-Gut Axis Red Light
Alex interviewed the great Sarah Turner a few months ago in London - you can watch that interview here:
Sarah is finally ready to ship out her product. And, as far as I know, it's the only product in the light therapy space that combines brain and gut exposure - meaning you're affecting the brain-gut axis!
Sarah has done very well and has some aces up her sleeve, I believe!
5. Thor Lasers
Thor Lasers and NovoTHOR were at the Biohacker Summit 2023. And, James Carroll featured his speech on the very promising effects red light therapy can have on brain health.
If you want an introduction into James' mind - who is one of the foremost experts on this topic - then check:
It turns out - even though we need more high-quality human data - that red light therapy might be extremely promising for depression, PTSD, anxiety, traumatic brain injury, dementia, Alzheimer's and other neurodegenerative disorders, and others.
So check out the full interview!
(I've heard Thor will be coming out with a new product in the future. Stay tuned for that!)
6. Affordable NIR-Based Saunas By Prasanna
So, you might have seen Alex's video with Brian Richards of Sauna Space. Other companies copy their concept with red and near infrared light bulbs. You can view one of the options by Prasanna here: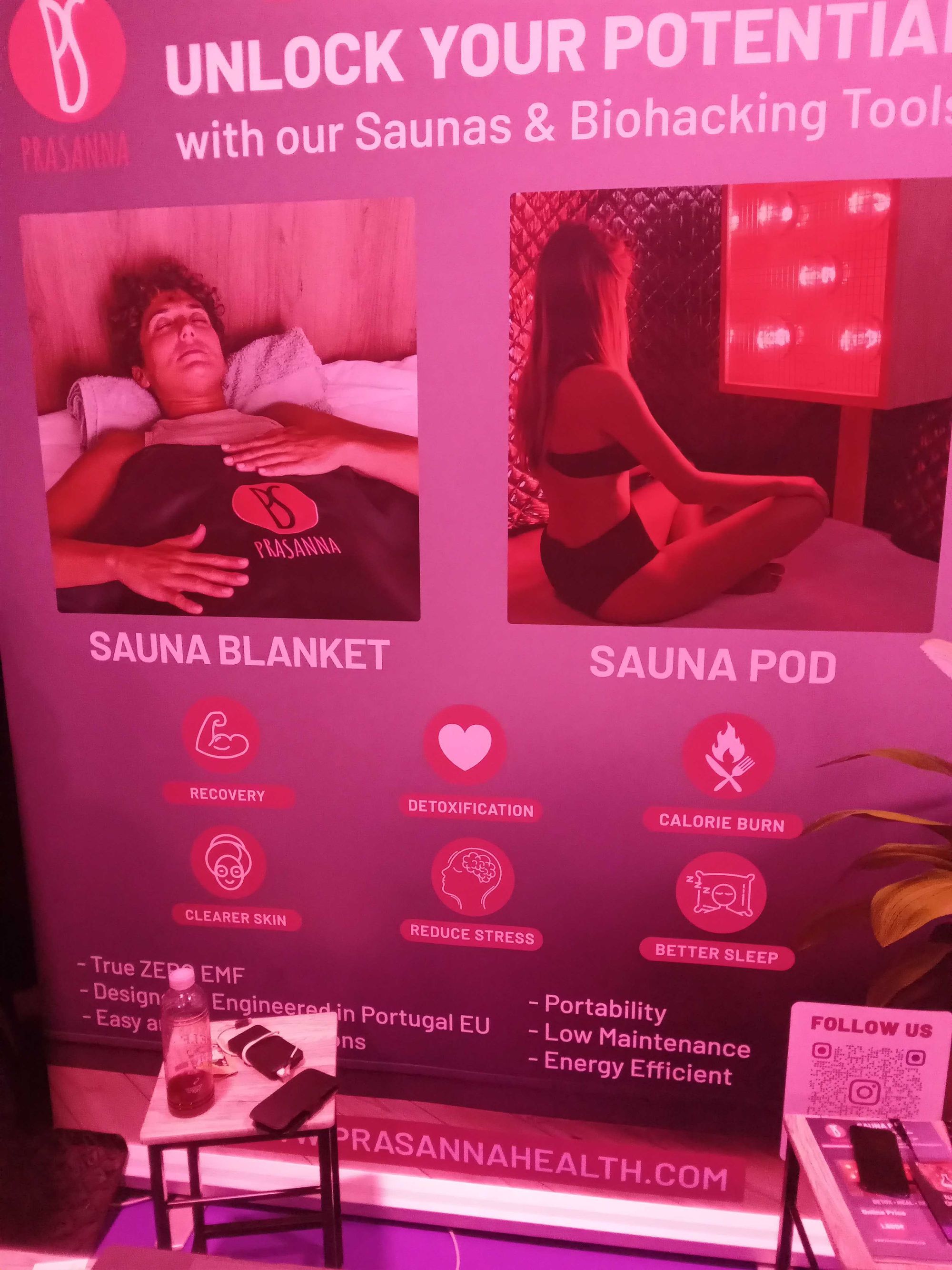 These are red and near infrared light bulbs for a DIY sauna, although, they do have low EMF products.
7. Lumaflex
We posted a video on the Lumaflex on the past - the first waterproof red light therapy device in existence:
We just had an interview with the founders (they were extremely nice!), and, we'll feature the special qualities of this product soon.
As you may know, every product can be amazing in a certain context.
8. The Revolutionary Weber EndoLight® Band
So I saved the best for last. I really did!
Here's why:
The Weber EndoLight® Band is a very unique product because it aims at a systemic effect of light therapy. As you may know, I've written an extensive blog about the systemic effects of red light therapy already.
In this case, the Weber EndoLight® emits different types of light directly into the bloodstream with lasers. And, the effects aren't just restricted to near-infrared - you'll get the benefits of many different wavelengths such as green light therapy as well.
Here you can see me wearing this device: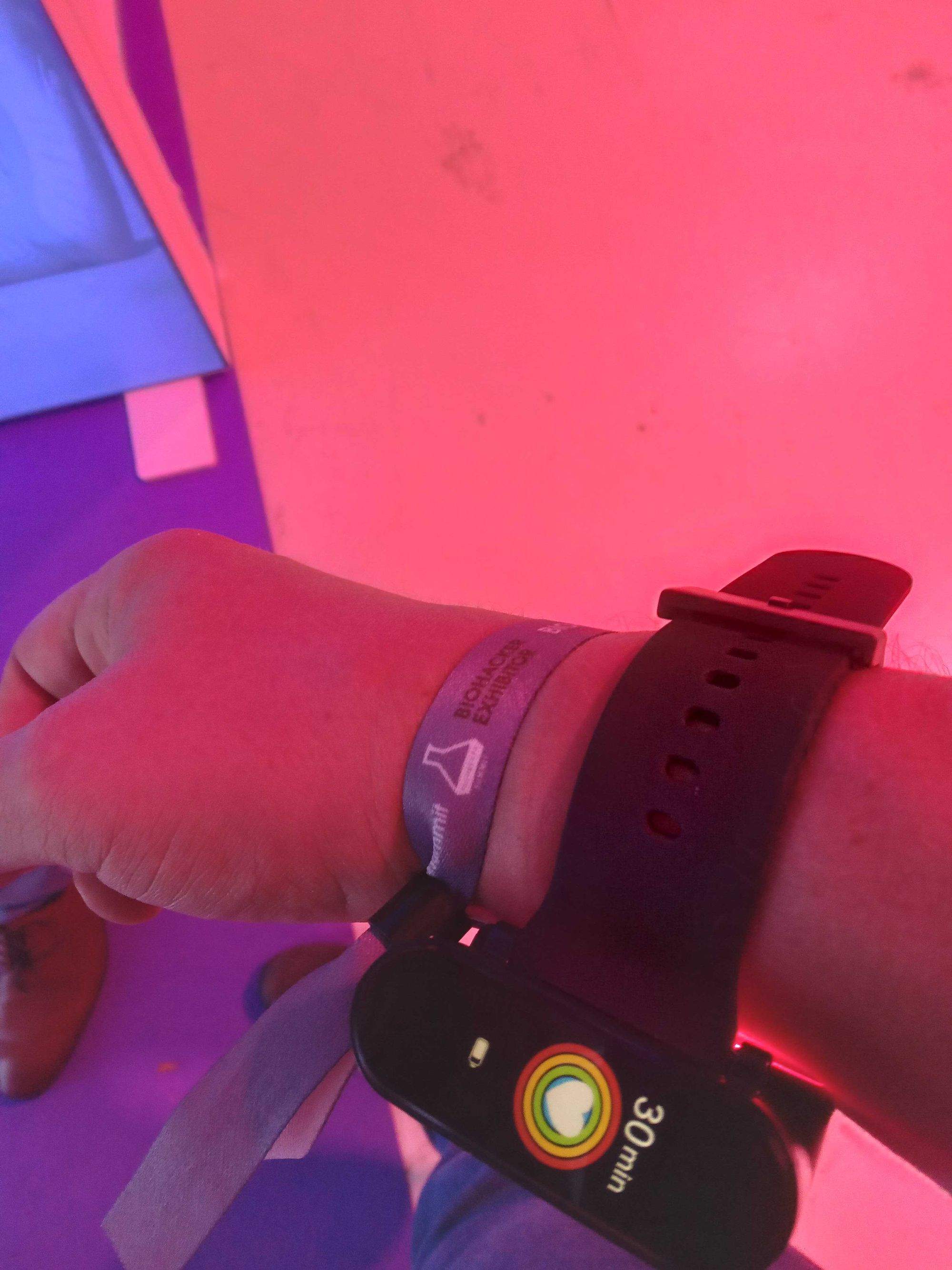 The lighting at the summit was imperfect. So it may be better to just show you the effects these lasers can have on health in some of their own pictures: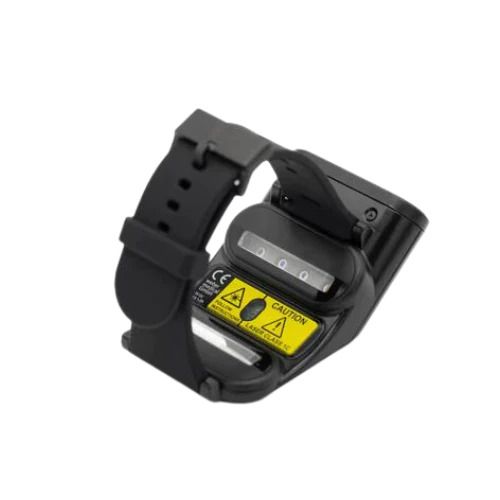 So what basically happens is that different types of visible and near infrared light are projected directly into the bloodstream.
I felt a nice boost of energy after us"ing this product. I will say though that the Biohacker Summit is held in the most horrible place you can imagine, in a way, full of artificial light. And I don't know why founders don't just arrange a summer meeting on Ibiza or Marbella instead of Amsterdam or Helsinki.
Basically though, the Endolight combines:
"True laser diodes in Red, Infrared, Blue and Green + Powerful Yellow LED"
So we're finally getting past the red and near infrared benefits only!
Who should use this product?
I can imagine many people who would. For instance my dad, who swears he "doesn't feel anything" when using my 300 LED red light therapy panel. He never gets into the sun also. Because people like my dad cannot imagine that light has any effect on healthy, and therefore, there's not an absence of the placebo effect but even a negative placebo effect.
"If you don't have an consciousness-altering experience like psilocybin, the product doesn't work"
He never said that, of course, but that's what it comes down to.
So yeah, for this population, the Endolight would be perfect. Or the Vielight. Or both!
Conclusion: Light Therapy Is The Future
I really experienced the evolution of the industry in the last few days. Light therapy is going mainstream, and I'm very happy to be at the front of that development.
I will also be clear that I'm somewhat experimenting with making this blog less science-focused than some of my previous writings in the past. I'm wondering how people respond to this more laid back article compared to my very heavily science-focused articles in the past!
Extra! Extra! Read All About It!
✅ 810 Nanometer Wavelength Health Effects Cheat Sheet
✅ Red Light Vs Blue Light Therapy: Benefits And Differences
✅ Red Light Therapy For Testosterone: The Encouraging Science
✅ How To Use Red Light Therapy 101: The Best Guide For Starters

🔥
Check out this epic new
Shopping Tool
that has been years in the making! You can filter products by price, number of LEDs, total power, irradiance, height, width, warranty, company, the company's location, warehouse, class, year released, pulsing, flicker, modular support, ultra low EMF, built in timer, multi-chip LEDs, stands included, specific wavelengths, shipping, value, noise level, and more!
Check These YouTube Videos If You Want To Learn More:
✅ PlatinumLED BioMax 300 Review: 6 Wavelengths & More!
✅ Hooga Pro 1500 Review: INSANE Power But…
✅ Mito Red Light MitoPRO 300 Review: Hard To Beat!
✅ THIS Is The Best Beauty Red Light Therapy Panel In 2023
This is a post by Bart Wolbers of Lighttherapyinsiders. Bart finished degrees in Physical Therapy (B), Philosophy (BA and MA), Philosophy of Science and Technology (MS - with distinction), and Clinical Health Science (MS), has had training in functional medicine, and is currently chief science writer.