Hey it's Alex, and I'm glad you're here! In this article, let's compare two different stand options by PlatinumLED that are designed to work well with both their tabletop BioMAX 300 panel and their slightly larger BioMAX 450 panel.
Why Use a Tabletop Stand?
With these tabletop and desk-mount stands, you can use either one on a table to reap all the great benefits of light therapy while you're working away on your laptop, reading a book, or reaching out to someone on your phone.
🔗
I aim to be affiliated with all light therapy companies as much as possible to remove any bias. If you purchase products through links in the article or using discount code ALEX, then I receive a small commission at no cost to you which funds these reviews to help you make informed decisions. For PlatinumLED, you'll get a discount code after clickging
THIS
link
There are many skin health benefits to red light therapy. The new BioMAX panels now have a few blue light LEDs with wavelengths in the upper 400 nanometers which has a history of helping with acne. So you will want a stand for your tabletop panel that lets you multitask at your desk.
Otherwise, you would need to lean it against something. That would be a real hassle finding things to prop it up against while attempting to get the right angle. When it's leaning back against another object, the panel is angled upwards rather than it being parallel to your body for more direct and even treatment.
Also, it is less secure to have it propped against something. If it slipped and fell, it could risk damaging the fragile components of your valuable panel. So most companies' panels either have kickstands built in or a stand that comes included with with the package price.
I've reviewed a lot of red light therapy tabletop panels. There's a wide range of options out there. Some stands are basic kickstands that just swing out from the back of the panel. Others are quite elaborate. Some are literally TV stands that work with the panels, and their box will even say it's a TV stand!
💡
PlatinumLED
are one of the few companies that offer two different types of high quality stands that both have an additional cost.
It makes sense to do it that way because some people could be buying this panel to only use it on the on the wall perhaps as an extra panel to go with their large BioMAX 600 body panel for instance.
There's no point bundling in the cost of a stand with the panel and having everyone pay for something they may not plan on using. Everyone receives the complimentary hooks to hang it somewhere. For those of us who like to multitask, either of these two desk stands can be a worthwhile investment to benefit from light therapy while accomplishing other important tasks.
PlatinumLED Stands For Their BioMAX 300 & 450 Panels
To help you make a better choice as to what's best for your needs, let's dive into the details about both of these unique stand options.
💡
The white tabletop stand mounted to my BioMAX 300 sells for
$109
. Using my
link
will save you 5% on the stand.
It's a very nice simple yet sleek stand that does what it needs to do. It's quite heavy since the stand is solid metal. It is simply an L-shaped piece of metal that has been painted white with some branding on the back and a hole in the center for the cable plus the hinge at the top.
The stand's foot is wide and sturdy. I can move this all the way up, and it's still nice and balanced. It's not going to fall over. That hinge is strong enough that it will hold the panel's weight out there without slipping.
That does make it a little bit resistant to move, but it's actually not that bad. With some companies' stands, I really have to brace myself to move their hinges. Thankfully, this one isn't as difficult as those others.
You can adjust the base of the panel so that it touches the stand so that the panel will be angled down slightly towards you. You can also have it square on facing you. Most people are going to have it somewhere in the middle or angling down slightly.
Or as we saw before, you can raise the bottom of the panel all the way up so that the panel faces the ceiling. For instance, if you needed to treat your sore calves while relaxing in a chair, you could prop your feet up and shine the therapeutic light underneath them.
💡
With this stand, you have more creative options to suit your needs compared to hanging your panel on the wall.
Some Assembly Required With Both Stands
The stands arrive in their own large boxes. I think the stand's box is even bigger than the box with the panel. It also comes with all the supplied screws and Allen-wrench keys.
This tabletop stand is relatively easy to install. It's just a matter of lining up the holes, screwing in four of these screws, and away you go. It took me maybe five minutes tops.
One opportunity for improvement in future generations is that the bracket on the back protrudes ever so slightly off the edge of the panel by about five millimeters (mm.) It's very slim, and it's really only noticeable when you're looking at it up close. From a distance you hardly even pick it up.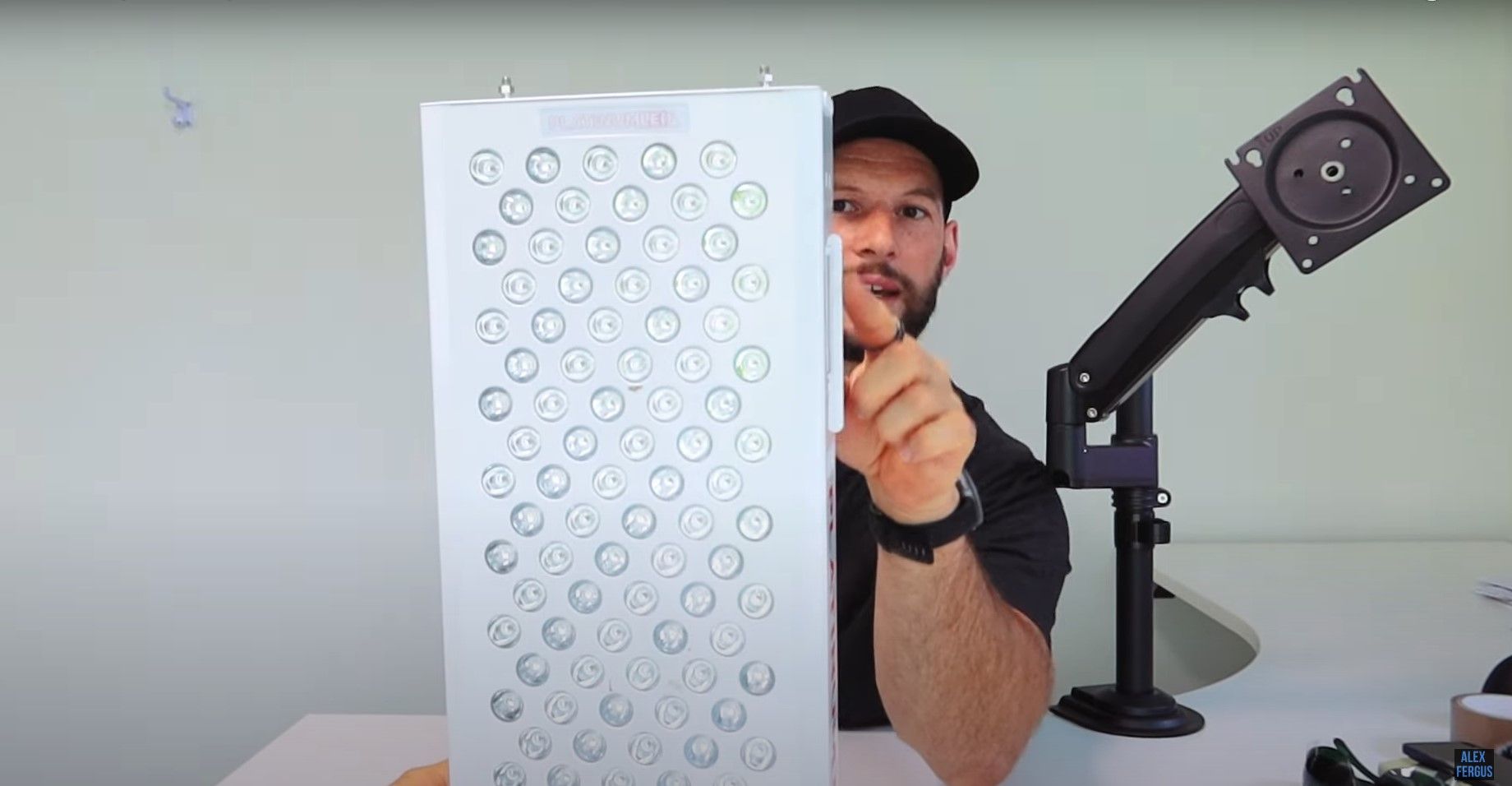 I think it is an intentional decision so that if you get the wider BioMAX 450 panel, then you can use the same bracket on there. If you get the 450 it is not even going to be an issue.
The mount on the back is nice because it doesn't cover the fan or the power socket. The cable hole is quite close to where the power cord plugs into the panel. It just slots straight through there. You can still access the switch easily.
💡
The stand does what it needs to do with a minimalist design.
The Articulating Arm Stand Offers Ultimate Flexibility
Assembling this black articulating arm stand with my electric screwdriver took me maybe 10 minutes plus another 5 minutes to attach the stand to the back of the panel. Using a screwdriver will take considerably more time to assemble both stands.
This stand mounts to a tabletop, desk, or any piece of furniture. You can even attach it to something a couple of inches thick with the clamping mechanism.
Once assembled, you can move it around freely with it mounted to the side of your desk or just about anywhere.
✅ Raise and lower the adjustable arm on the vertical pole which is roughly a foot high or 30cm, so it gives you a good range.
✅ Position the panel at any angle: vertical, horizontal or even diagonal.
✅ Rotate your panel around the stand's main pole.
✅ Turn your panel side to side with the arm's swivel mount at the end.
One you've found your position, it holds that spot really well as is. I can lift the panel all the way up or lower it down, and it still holds firm. Ideally, if you've found the perfect position for your panel, you could tighten everything up to really lock it in place.
You could have this mounted off to the side and out of the way, yet ready to use. Whenever you feel like it, you could just pull it around, position it however you like for the most targeted treatment, and move it back out of the way when you're finished.
💡
The articulating arm stand sells for
$149.
Using my link
saves you 5%
off the stand.
Which Stand Is Better For You?
The white tabletop stand is more sleek and subtle. It works just as well for your typical use. The black articulating arm is a bit of an eye sore unless your décor is an industrial motif. Maximum functionality is its main appeal.
I know the team at PlatinumLED have been selling these panels in a lot of commercial areas like health spas and even medical centers. So in a situation like that the articulating arm stand could be especially useful. Instead of twisting and turning your clientele, let them choose a comfortable position and easily maneuver the panel into the precise position.
It's like when you go to the dentist for an x-ray. That big x-ray machine is on an adjustable arm. The dental hygienist pulls it down to position it properly then pushes it out of the way.
💡
I can see the particular utilitarian advantages for commercial users who are positioning a stand maybe one or two dozen times a day. If the assistant had to brace themselves to adjust the white tabletop stand for each customer plus position the patient the rest of the way, that would waste valuable time and energy. Your staff and customers will appreciate the easily adjustable black arm stand.
I like the tabletop stand, because I can take it off the table and put it under the desk when I'm not using it. I'm not adjusting the angle very often either.
With the arm clamped to a surface, you're kind of locked into this one location for using the panel. Though I could very easily unscrew this clamp move it to another desk and set it up there. You'd probably want two people to move it since it's a little heavy. If I were under that right now and unscrewed the clamp, it would all come crashing down on me.
You can see the benefits of the adjustable arm with countless ways to position the panel. This would be great if you were doing a treatment above your head or any areas that are a little bit trickier to target at the right angle. It gives you so many options in terms of setting it all up. I haven't seen any stand this flexible before in the red light therapy space.
It's great that you've got two good options available. If they only offered one or the other, some users may find it too limited for their purposes. At the end of the day, the team at PlatinumLED put both options out there to serve different customers' purposes.
There are nice little clips for the cable to keep it from getting caught up in anything. You just clip it in, and the cable goes down the line of the arm.  If you ever wanted to unmount this, it's only four screws on the back to take off this bracket.
You don't even have to access the control panel directly because you can still control the panel with the simple complimentary remote or the optional touchscreen remote that costs extra.
One downside with this adjustable arm stand is the bracket on the back. It still has plenty of space for airflow, but it's a little bit tricky to access the cable and the switch. I can reach through this narrow opening on the side, but it's not as easy as with the tabletop stand.
When I was building it, I realized it would be tricky to access. Thankfully, I plugged it all in before screwing it together. You would be able to get it in there, it would just be a bit of a hassle. So plug it in before assembling it all, and thank yourself later.
Parting Thoughts
What's your take on how these stands compare and which one is better suited to you? I hope you found this review helpful. I wanted to give you a breakdown of your options with all the pros and cons for each one.
💡
Important: Both the tabletop stand and the adjustable arm stand only work with the BioMAX 300 and the BioMAX 450. They're not designed for the bigger panels.
Sometimes, I wonder if you could put a PlatinumLED BioMax 600 on here, but it may not be designed to hold the weight. It might break under the strain, and that's the last thing you would want!
The team at PlatinumLED come out with some highly innovative products especially with their panels. It's cool that they've provided the market with two different stand options.
If you prefer one stand over the other for your unique situation, let me know or share it with our whole community in our new Facebook group. I'd love to hear your particular reasons. If you have any questions or comments, please leave them below, thanks.
Items Mentioned
🔥
Check out this epic new
Shopping Tool
that has been years in the making! You can filter products by price, number of LEDs, total power, irradiance, height, width, warranty, company, the company's location, warehouse, class, year released, pulsing, flicker, modular support, ultra low EMF, built in timer, multi-chip LEDs, stands included, specific wavelengths, shipping, value, noise level, and more!
This blog post was written by Alex Fergus. Alex is a ISSN Sports Nutrition Specialist, Fitness Professional and certified Superhuman Coach who continues to expand his knowledge base and help people across the world with their health and wellness. Alex is recognized as the National Record Holder in Powerlifting and Indoor Rowing and has earned the title of the Australian National Natural Bodybuilding Champion. Having worked as a health coach and personal trainer for over a decade, Alex now researches all things health and wellness and shares his Alex Fergus blog as well as light therapy on this website.