4 years ago I published a video comparing 6 different Red Light Therapy Panels. Sure there were a few product reviews on YouTube, but no one had done such an in-depth comparison between the available products.
This was a time when unique features in a red light panel were rather limited. Things such as a built in timer or the ability to connect multiple panels together were seen as premium additions.
Price, power output and those premium features all varied between panels, but when you boiled it down to the basics – choosing which product to purchase wasn't that complex of a decision.
The New Generation of Red Light Panels
Fast forward a couple of years and my latest panel comparison is going to include over 15 products with a wide range of specs and product features.
Prices for a panel range from a couple of hundred dollars to a couple of thousand.
The feature lists are lengthy, with touch screen control panels, wifi connectivity, pulsed light options, dimming capability and we're even seeing panels emitting wavelengths outside the red and near-infrared range.
Not to mention the range in panel shapes and sizes, the various stand options, and the fact that we now have red light therapy companies located all across the world.
Even with my in-depth comparison videos (be sure to join our mailing list to be notified when the next one goes live!) and vast collection of reviews it has become quite an involved process to decide what panel is best for you.
💡
But Everything Changes Today!
Introducing the Red Light Therapy Shopping Tool!
And that is why today I am very excited to announce the launch of the Red Light Therapy Shopping Tool. This is something I have been working on for the last 6 months and it's going to change the way people shop for a red light device.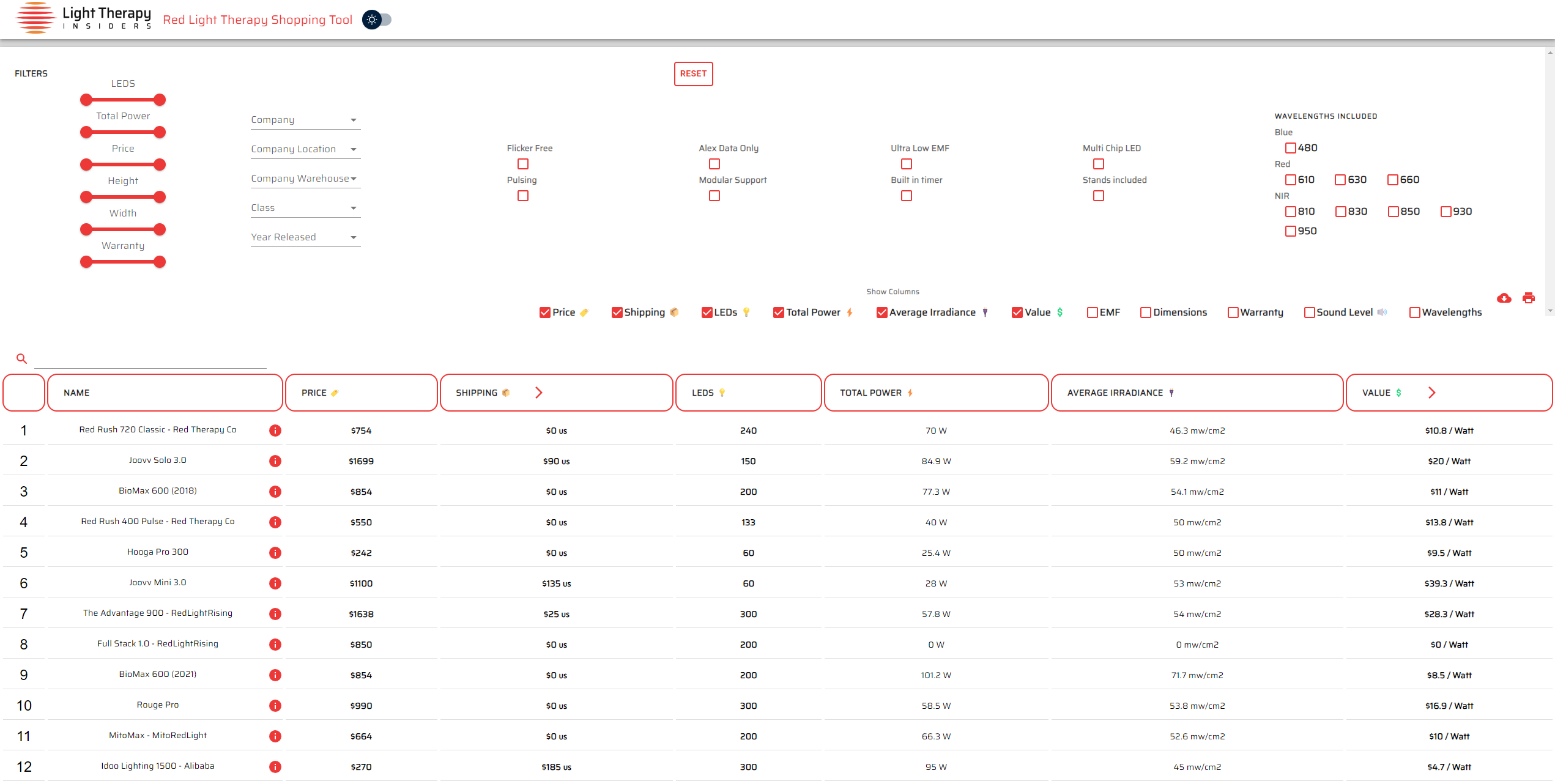 This web-based tool allows people to search, sort and filter products based on their criteria. Effectively allowing you to find the best red light therapy device for your own situation.
Most Powerful Panel Under $1000?
If you want to find the most powerful panel under $1000, you can easily do that. Apply the price filter to stop at $1000, and then rank the products from highest powered to lowest.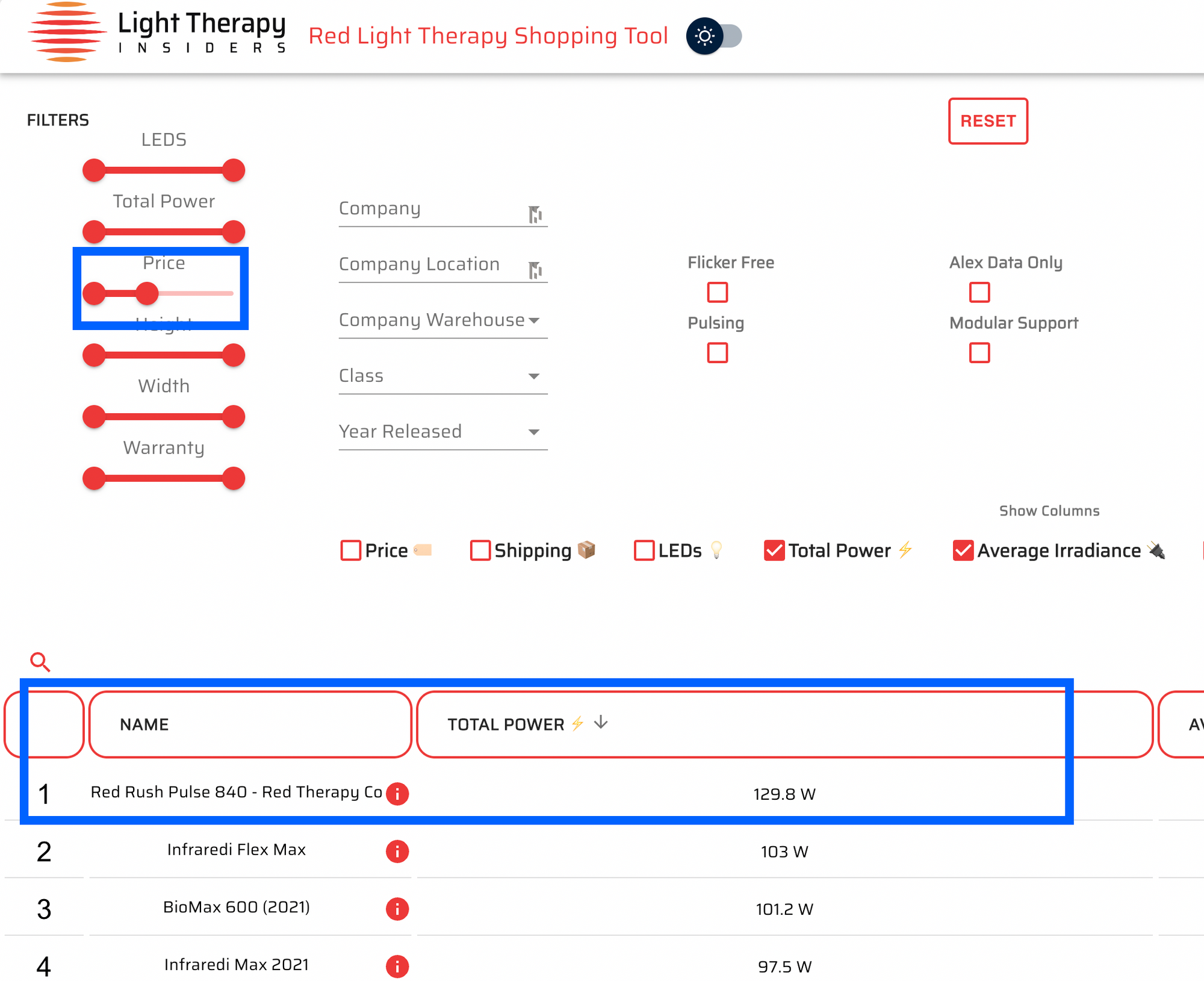 Wall Panel With 810nm Light?
What if you want to find a Wall Panel with 300 LEDs that has 810nm light? That's doable as well. Select the 'Wall Panel' option in product class, then tick the 810nm box under wavelength.
The table will update to show only the products that have met this criteria.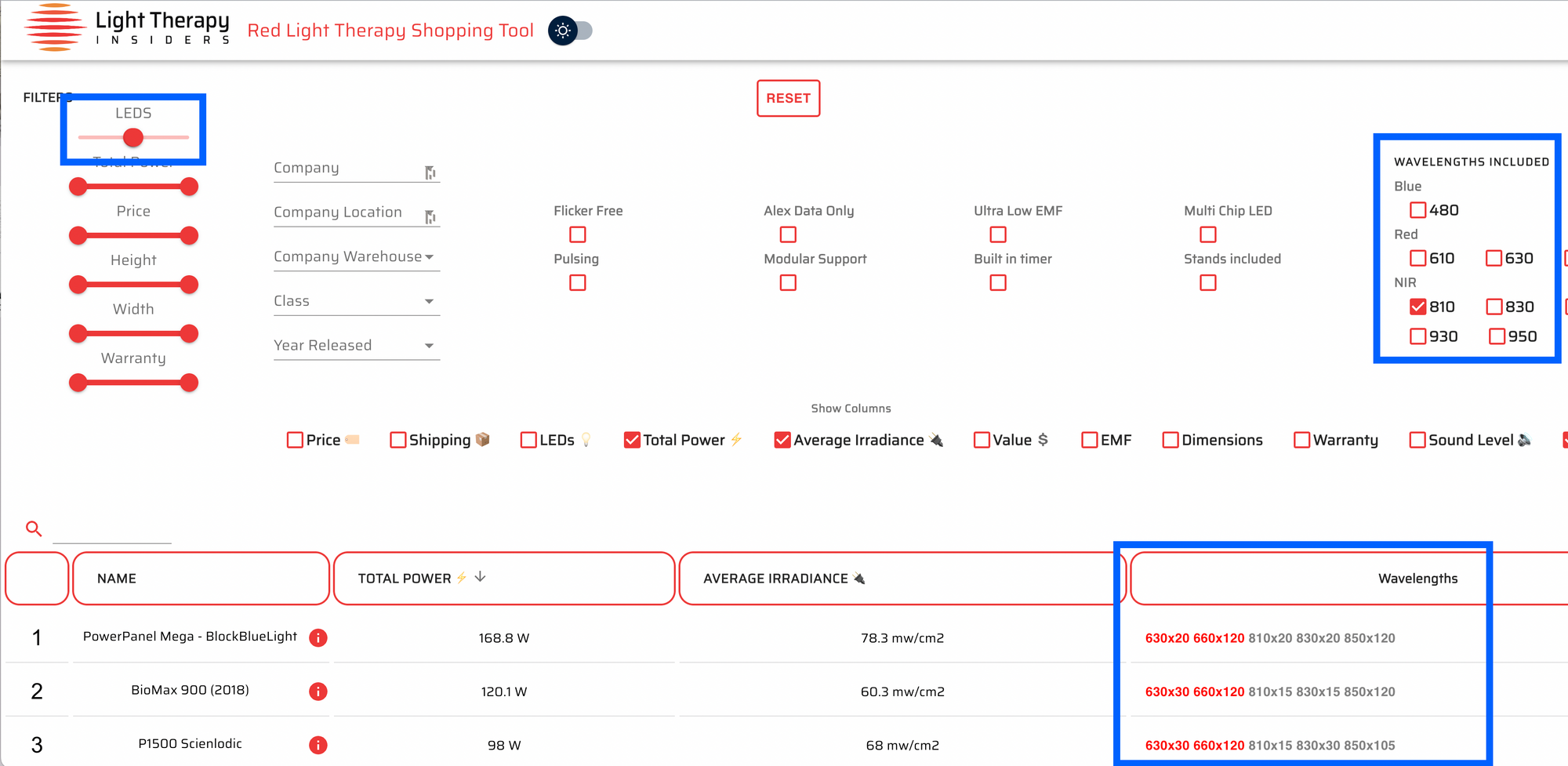 Even better, with this example you can tick the wavelength button to see a breakdown of how many LEDs in the product actually have 810nm light.
Region Specific?
What about location? Perhaps you want to buy from a local company for local support, faster (and cheaper) freight options and to know you're protected by local consumer laws? Well with the Red Light Therapy Shopping Tool this is also possible.
Simply select your region from the company location dropdown and let the tool filter the results. You can even filter the data based on where the company has a warehouse – as some companies have warehouses located across the world.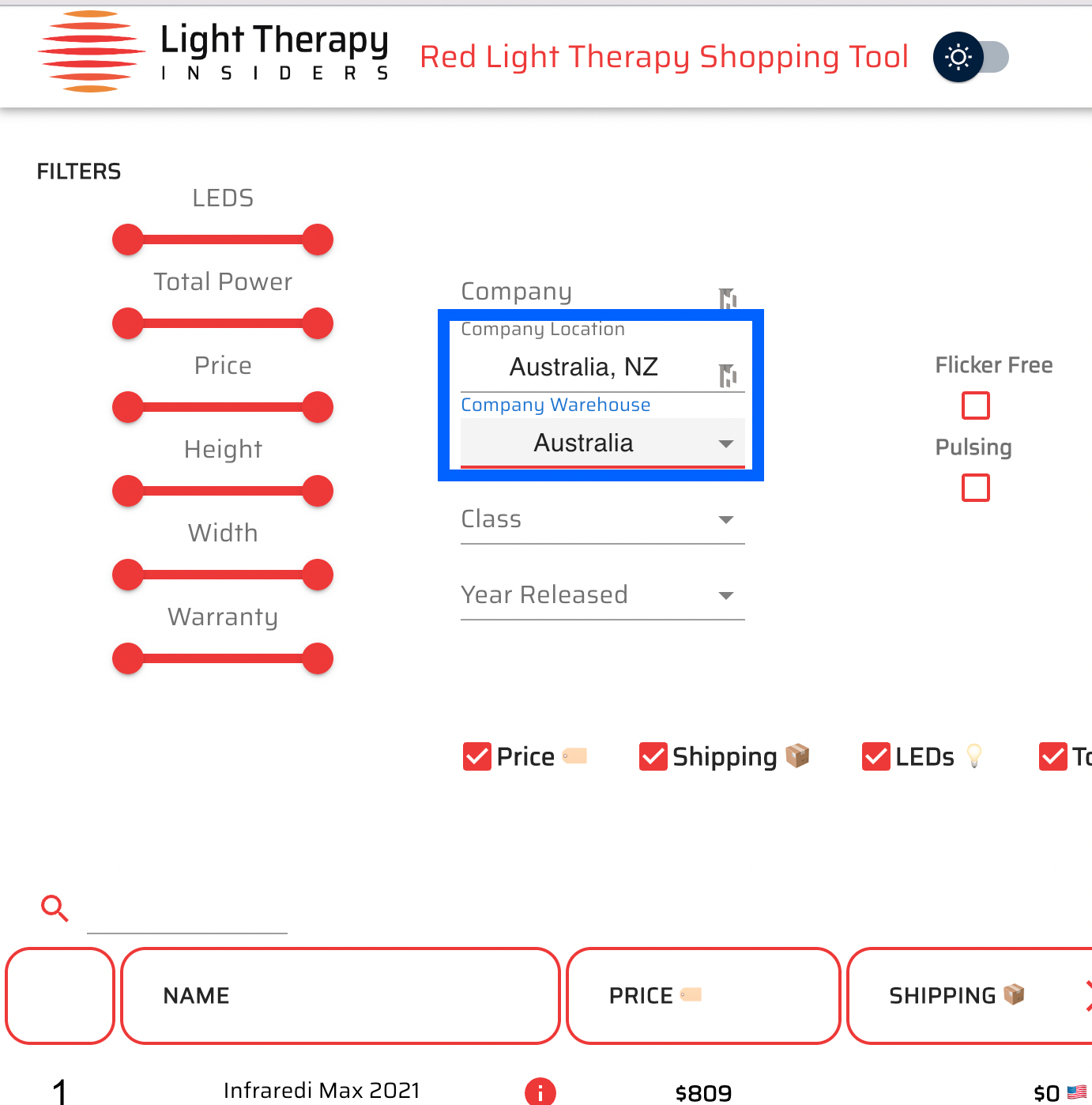 The options really are endless, here are a few more examples of what you can do:
Looking for a small, light product to travel with? Use the filter to restrict products to a certain size. Then sort the data by weight to choose the lighter one.
Looking for the best bang for your buck? Simply sort the data by the value metric – which puts a dollar value on 1 watt of therapeutic red light.
Want to find a quiet panel with no nnEMF? Simply tick the 'Ultra Low EMF' button then sort the results by sound output.
Seeking out the most tricked out panel full of bells and whistles? Then make sure you tick Modular Support, Built in Timer and Multi-Chip LED's to see what remains.
I have included the most important product metrics to allow you to easily find the best products.
It really is quite a powerful tool and you can see why I'm excited to share this with the world. The best way to understand how useful it will be is to simply play around with the tool. And you can do this by simply heading to https://products.lighttherapyinsiders.com/
But for those who want to learn more about my new Shopping Tool, read on.
Explaining The Metrics
As you will see there are a lot of data points used in this shopping tool. And some things do need a bit of an explanation. So let me cover these things below:
nnEMF Data
The are two ways you can sort the products by nnEMF output. The first is by ticking the 'Ultra Low EMF' box.
What this does is removes any product that had a Orange or Red nnEMF measurement (in Electric or Magnetic fields) as per the Building Biology standards.
These readings were taken at 6 inches. So please note if you are EMF sensitive, just because a product may fall under the 'Ultra Low EMF' category it doesn't mean it will be a zero reading right next to the device.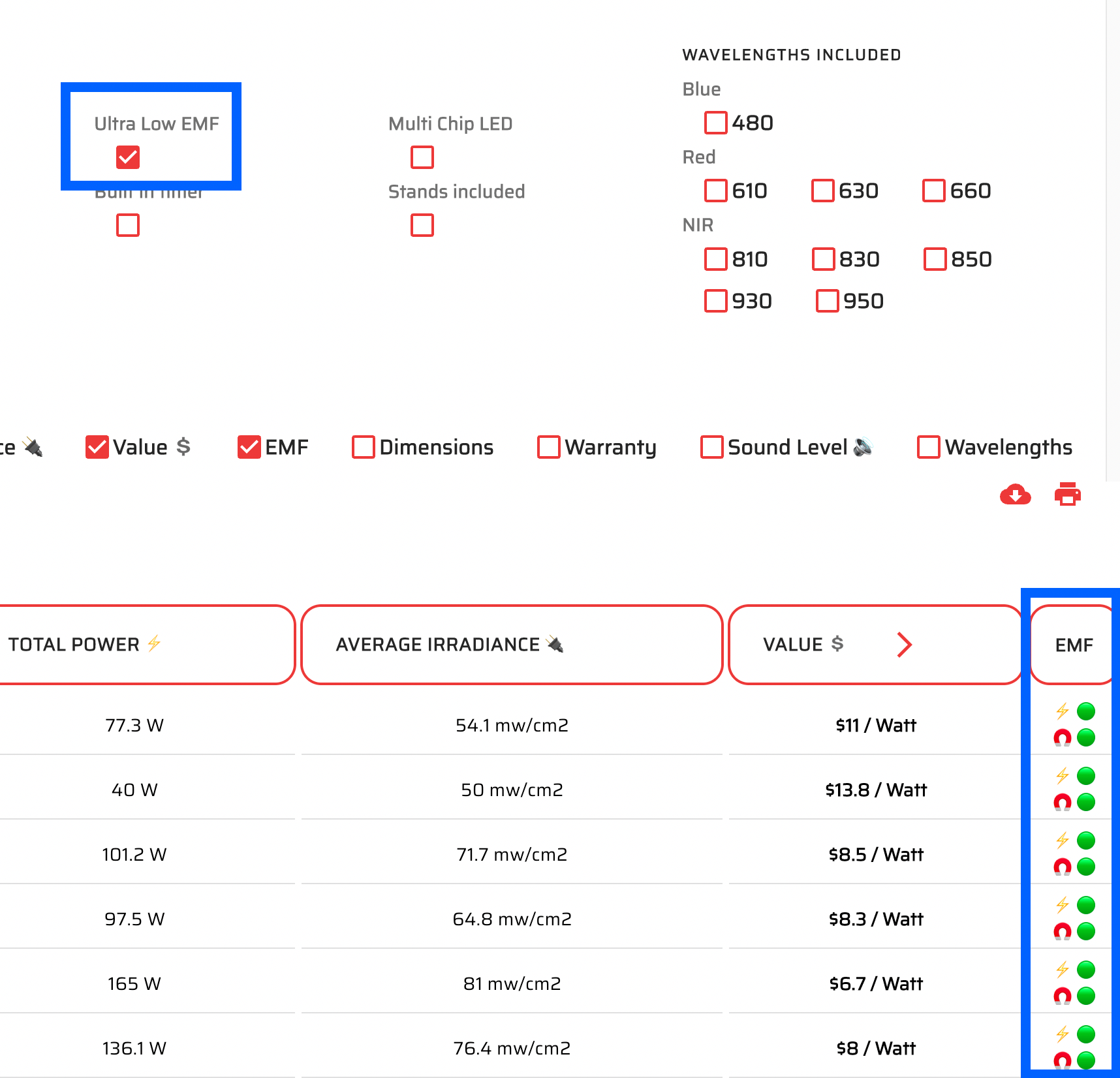 The second option is to simply display the nnEMF figures and then analyse the results.
To do this you simply tick the EMF box under 'Show Columns'. This will reveal the EMF data for each product.
You will see two icons - a lightning bolt which represents the electric reading and a magnet - which represents the magnetic reading.
Next to these icons you will see a light - green, orange and red.
Green means the product tested with safe nnEMF readings at 6 inches (and will remain if the 'Ultra Low EMF' filter button is ticked).
Orange or Red mean there was a higher amount of nnEMF detected at 6 inches. To see the exact reading, simply hover your mouse cursor over the color to see the reading.
Wavelengths
Like the EMF data, there are two ways to filter or analyse products based on the wavelengths emitted.
The first is to use the 'Wavelengths Included' filter box. If you only want products that have say 810nm NIR, then tick the 810 box.
This means only products that have 810nm (plus or minus 5nm) light will be shown in the shopping tool, everything else will be hidden.
You can do this for multiple wavelengths. Maybe you want a panel with 810nm NIR light, 630nm Red Light and some blue light. You would then tick 810n, 630 and 480. At the time of writing the only product that meets this criteria is the new BioMax & SaunaMax panel.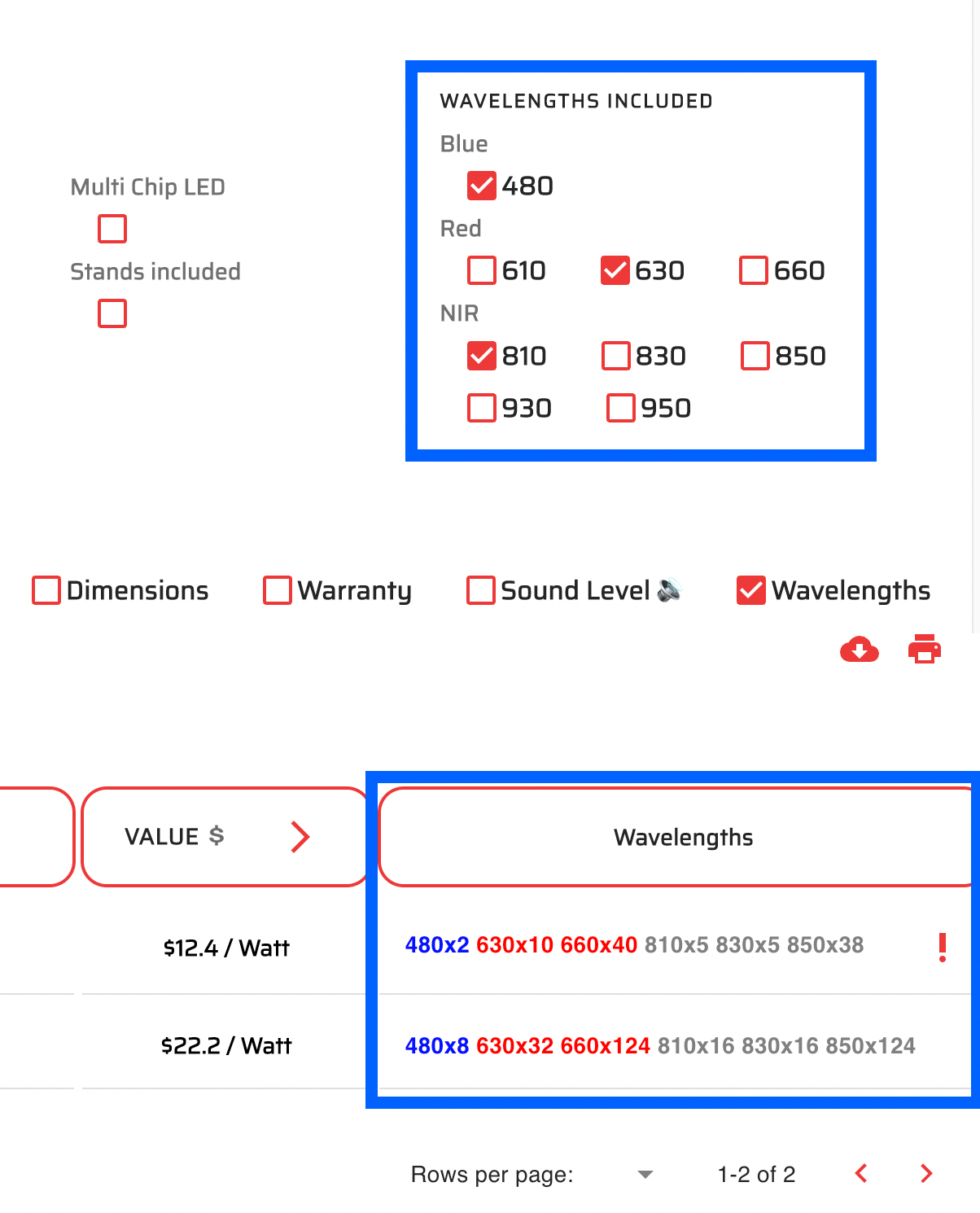 The next method to analyse the wavelength data is by ticking the wavelength box under 'Show Columns'.
When you do this, the wavelengths emitted for each product will be displayed.
The breakdown is pretty straight forward. You will see the wavelength followed by an x followed by a number.
For example - 630x75
What this means is that the product is emitted 630nm light and has 75 LED chips emitting this wavelength.
This is handy as earlier we used an example where we wanted to only see products with 810nm light. But now with this extra column on display we can see how many LEDs are putting out 810nm light. Some panels only have a few LEDs emitting 810. Others have a lot more.
So by setting your criteria (using the Wavelengths Included option) and then display the actual Wavelength Data (by showing the Wavelength Column) you now have the information to make a better informed decision.
❗
Notice the ! mark beside some products? Click this to reveal any discrepancies between the marketed wavelengths and what we tested in the real world. Sometimes panels don't emit exactly what the website says they should emit!
Flicker
Flicker is simple - if the LED's emitted flicker during my testing, then this is noted when the product is entered into the shopping tool database. If you don't want to consider a product that has flicker, simply tick the 'Flicker Free' button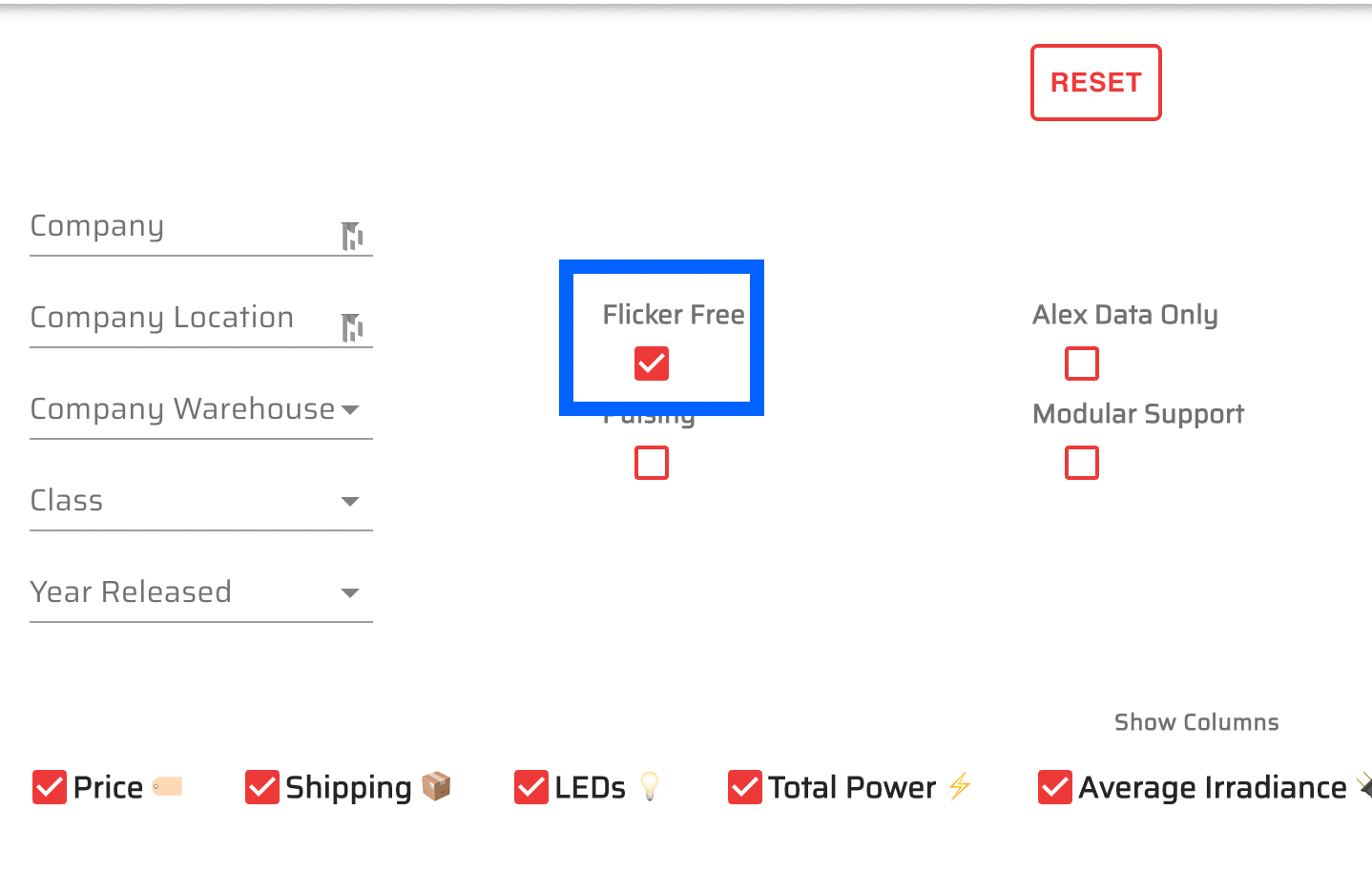 Shipping
There are two shipping figures, the first (which shows by default) is shipping to continental USA. You will see the American flag next to this figure.
If you click the > next to the Shipping label, this will show figures for international shipping options (and you will see an image of the world).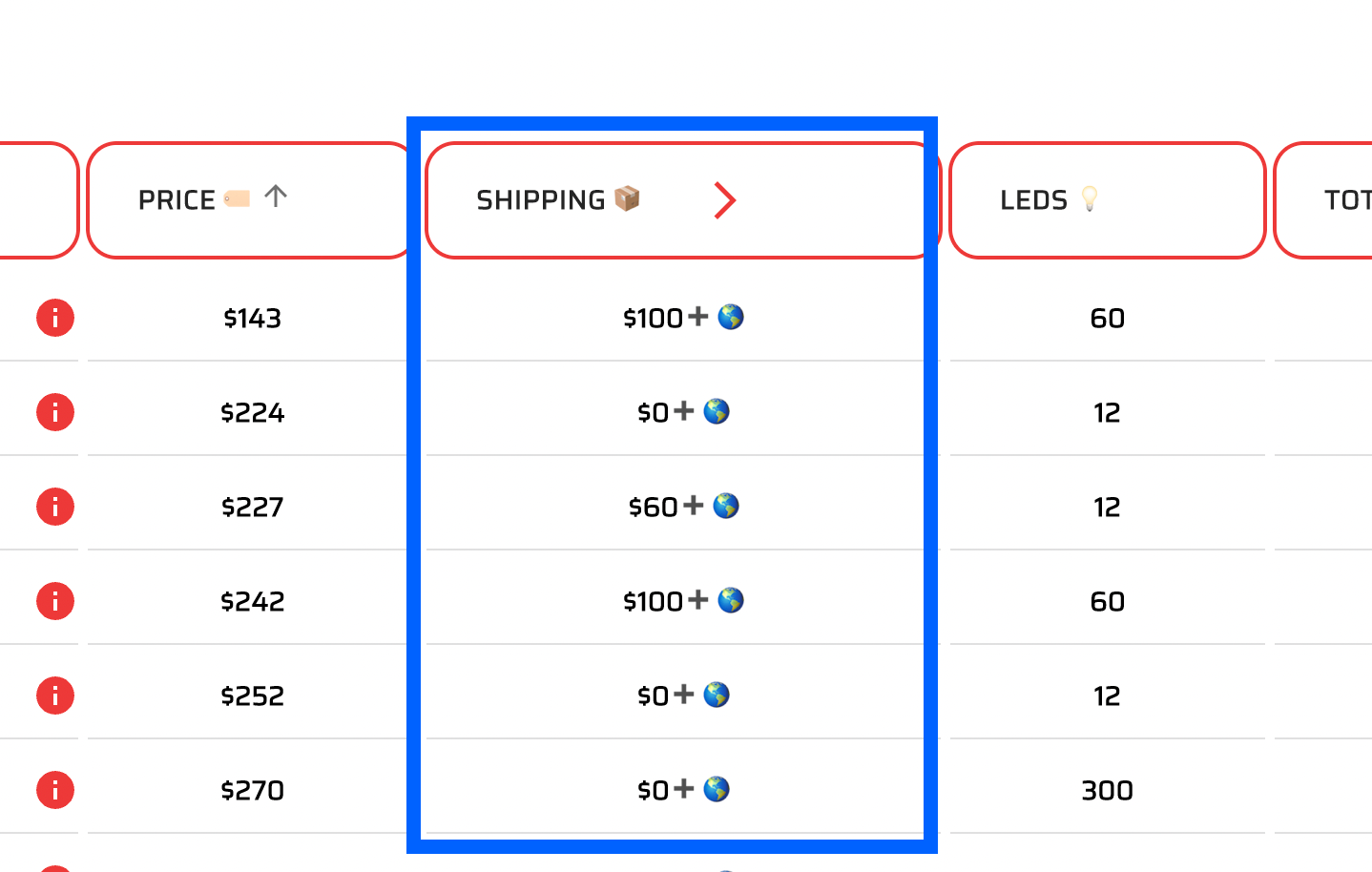 Please note that the figures provided may not be accurate - a lot of companies frequently change their freight costs and actual costs to your location may vary. For the international shipping I have looked at the cost to send it to Australia and the UK. I use these figures in the shopping tool but note the '+' icon beside the figure - as again your actual costs may be much higher.
Assume the shipping cost does not include VAT or Taxes as well.
Power Figures
There are two power figures displayed in the shopping tool. Here is what you need to know about them: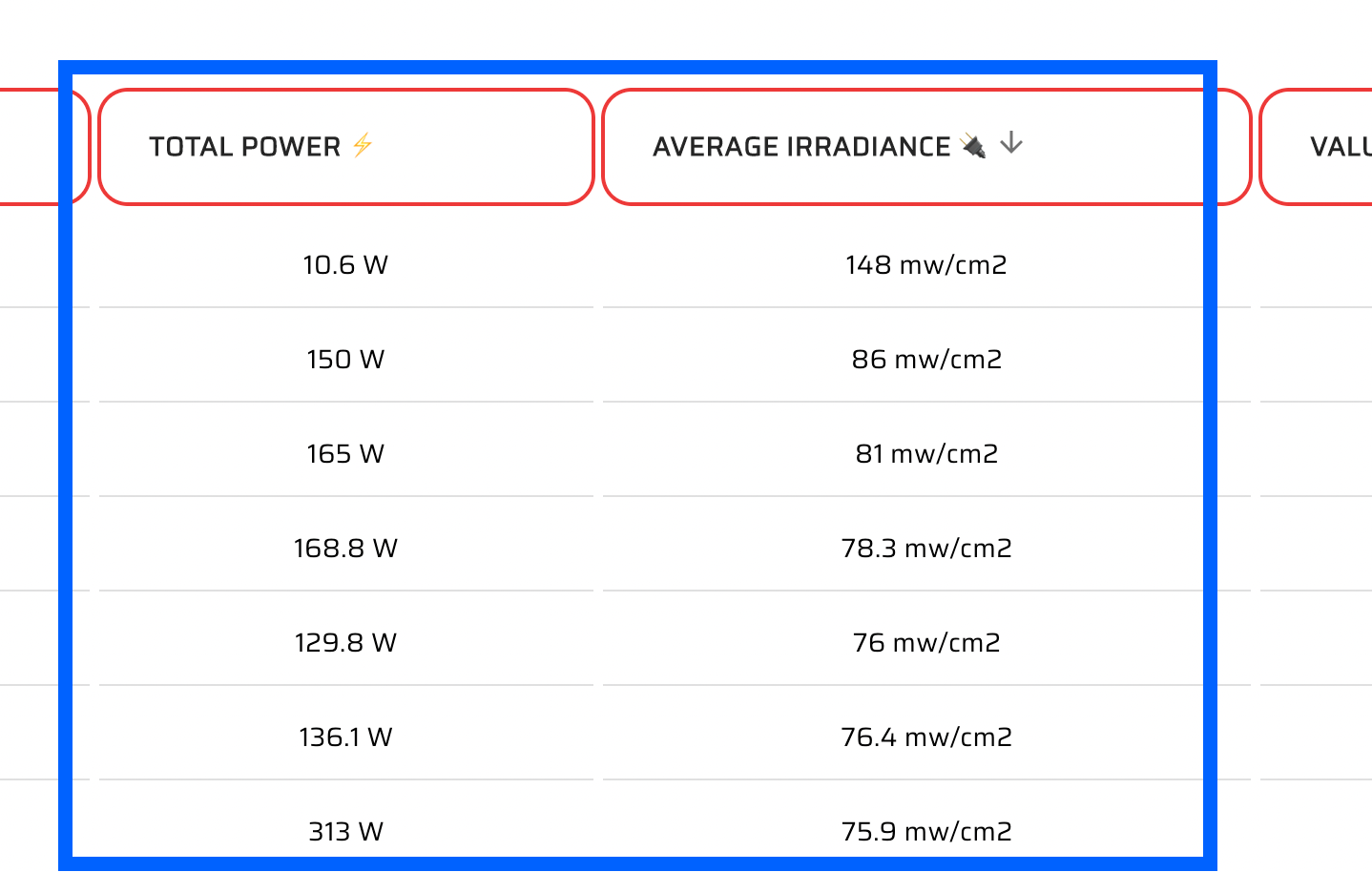 6 inch figures - these numbers are measured at 6 inches from the device
Not scientific readings - they are measured using a hand-held professional grade spectrometer (learn more about this HERE). Though my readings have compared well to lab tests, please don't view these figures as 100% accurate.
Average Irradiance - this is the average power density after taking 9 measurements around the surface of the device (6 around the edges - 1 inch in from the outside LED, and 3 through the centre). This is measured in mW/cm2.
Total Power - this is the average irradiance multiplied by the treatment area of the LEDs (measured from the outside edge of the LEDs) and is measured in Watts.
Product Classes
When I first did my red light therapy comparison series I referred to the panels as 'Body Panels'.
Fast forward a few years and two things have changed. Firstly, the 200 - 300 LED panels of yesteryear are now rather small compared to the panels currently on the market.
It's now possible to buy all in one panels with over 1000 LEDs for instance.
Secondly, I have learnt that a smaller 300 LED panel doesn't provide adequate treatment beyond the size of the panel (Watch more on this HERE).
So for these reasons I have decided to change the labels I use on panels to tole following:
Body Panels - I now refer to a body panel as a panel that is at least 5 feet tall. Meaning it will treat your entire body (or at least a big chunk of it).
Wall Panels - Those 200-300 LED panels that I used to call Body Panels are now referred to as Wall Panels. Why? Well typically you hang them or lean them against the wall and they only cover a fraction of the body.
I apologise for the confusion here, but the market has changed a lot and I think these new definitions do a better job of explaining what the panel size actually is.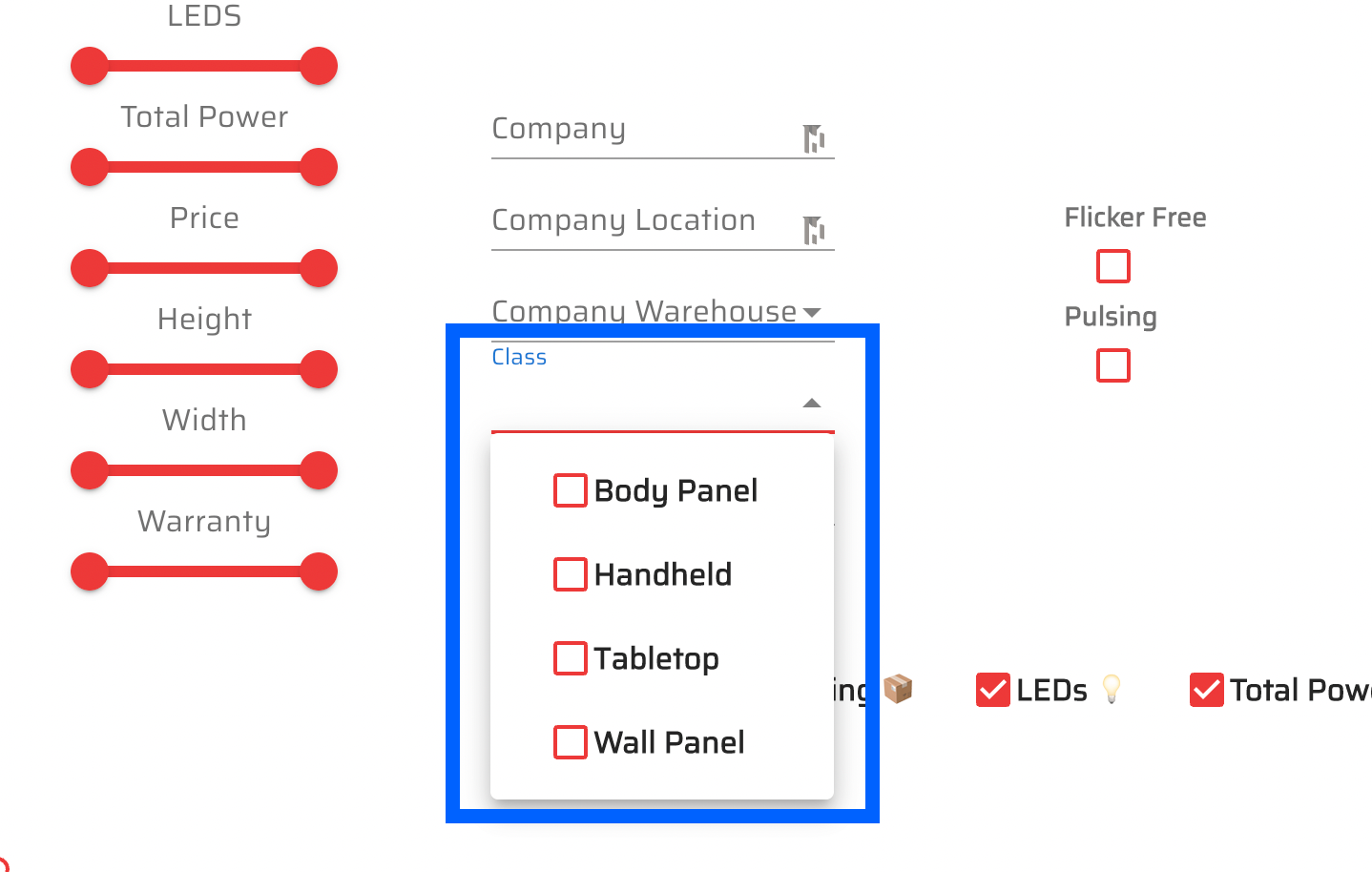 There are also the following classes:
HandHeld - handheld devices, battery or mains powered
TableTop - smaller panels (40-150 LEDs) typically designed or capable of sitting on a table.
Data - Current At Time Of Entry
Please note, the data entered was believed to be correct at the time it was inputted into the database. These are not real-time figures. Prices do change, products are modified and companies do stop selling products.
How To Learn More About A Product And Buy One At The Best Price
Ok so you've used the Red Light Therapy Shopping Tool to find the product best for you, now what?
Well there is a neat feature embedded into the tool that is going to help you here. Next to the product name you will see a red circle with an 'i' inside it.
If you click this an info box will appear: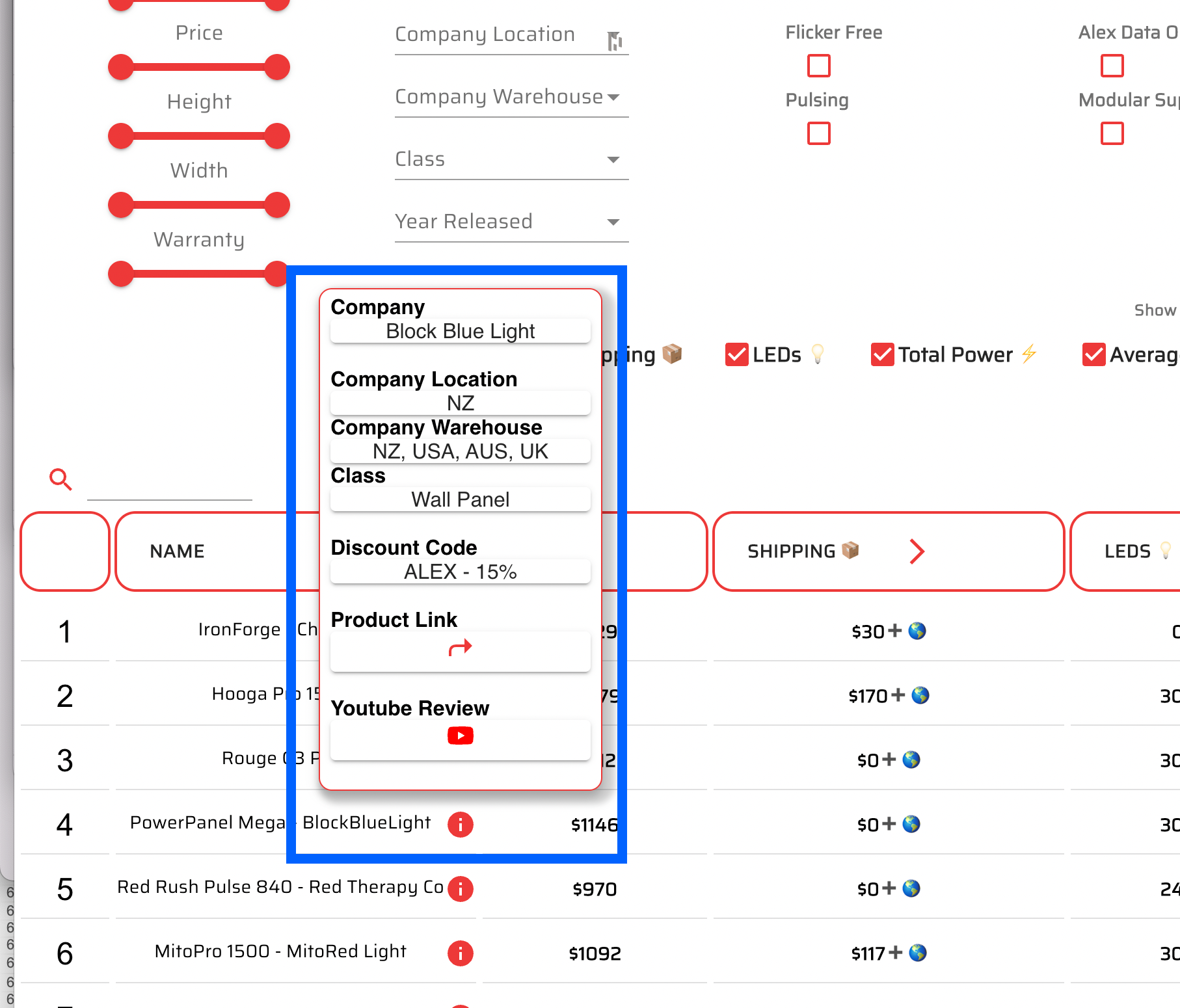 In this info box you will see:
Company - Who sells the product
Company Location and Warehouse
Product Class - What type of product is it.
Discount Code or Link - Here you will see what discount code or link is available for this product and how much it will save you.
Product Link - a direct link to the companies website.
YouTube Review - a direct link to my review of this product (if available).
So if you want to learn more about it, click the review link. And if you want to buy it, take note of the discount and then hit the product link and grab your credit card!
💡
Note
- you can also check out our
Deals & Discounts page
to see the best deals going on Red Light Therapy products.
How To Get The Most Out Of The Shopping Tool (Plus Extra Tips)
The tool is pretty straight forward, apply the filters, show the columns that interest you and use the sort function.
But there are a few tips and tricks that I wanted to share with you:
An > arrow means there is more information available
If you look at the Shipping label and the Value label you will see a red arrow. Click this arrow to reveal more data. For shipping you will move from USA shipping rates to international shipping rates.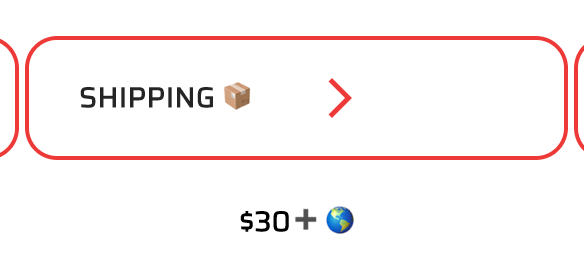 For Value, you will move from $ per watt to $ per LED.
Hover over EMF data for actual values
I have coded the nnEMF readings either green, orange or red. For readings that are orange or red, you can click or hover your cursor over the circle to see the actual measurement.

Turn on what you want to see
By default only some columns are on display. EMF, Dimensions, Warranty, Sound Level and Wavelengths are all hidden.
But you can easily turn these columns on by ticking the box under 'show columns'. You can also hide columns that don't interest you.
Above the product name you will see a search bar. Here you can search product and company names to find a particular product.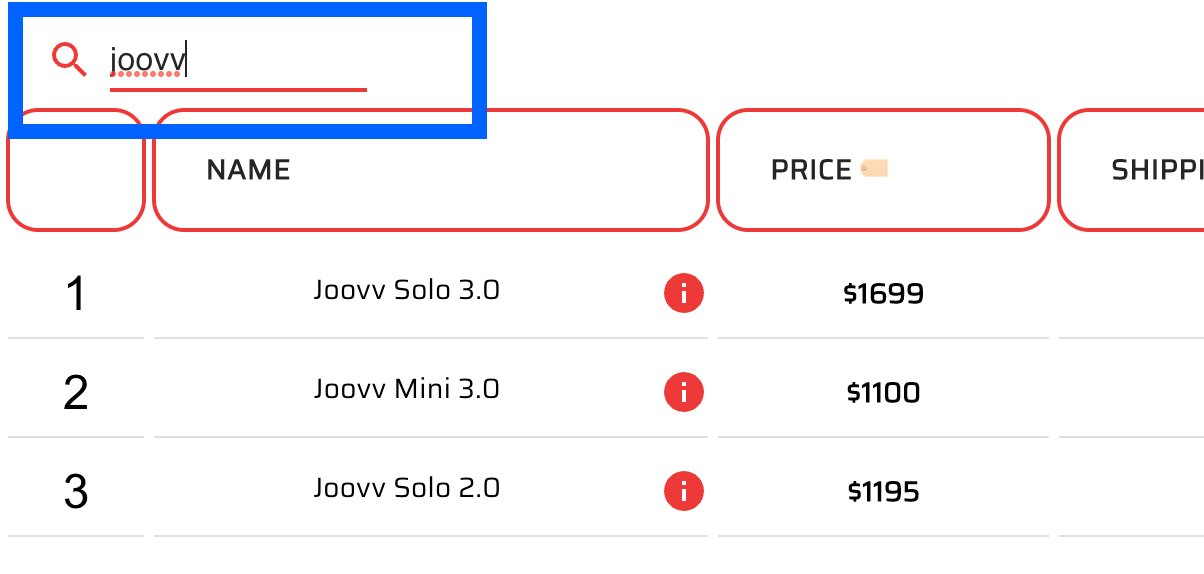 Use on a desktop or laptop
Though you can use this tool on your mobile phone, it is going to be easier to use on a larger screen. There are a lot of data points to be displayed. If you want to geek out on the data, use a larger device.
At the top centre of the Tool you will see a 'reset' button. Be sure to click this to clear filters.
Finally, all prices are in USD. This may mean some of the prices on the non-USA based companies in the shopping tool may not match the website price due to exchange rate swings.
Road Map - And Future Updates
I have a lot planned for this tool. So be sure to jump on the LightTherapyInsiders email list, or keep an eye on our website as I will be announcing big updates through these channels.
But here is what I have planned for this tool:
More products, more reviews
Of course every time I review a new product, the data will be updated in this database.
Easier sharing and data extract
The export and print features will be improved, as well as providing you a way to share your filtered results with friends.
I want to add more products to this database - even products that I haven't tested yet. Of course such entries will be missing a lot of data (no power figures, no EMF or sound data etc). But it will still allow you to see what options are out in the market.
What else? What would you like to see added with this tool?
I really do value your feedback. Please send through your ideas. I am keen to hear them!
You can do that by heading to our Contact Us page, or leaving a comment in our Light Therapy Insiders Facebook Group, on one of my YouTube videos or leave a message in the comment section below.
Likewise if you see data that is wrong or if you discover any bugs!
Otherwise, enjoy the tool. It's viewable at https://products.lighttherapyinsiders.com/